Ooey, gooey, soft & chewy
Graham cracker crunch
Melted chocolate
Toasted marshmallows
*The End*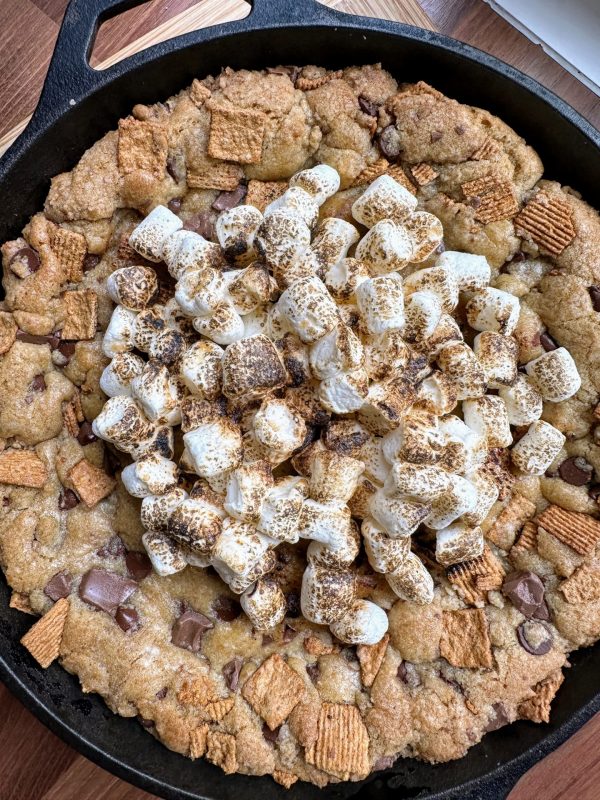 ---
What you need
S'more Pizookie
1 cup unsalted butter* softened
1 cup white (granulated) sugar
1 cup light brown sugar packed
2 tsp pure vanilla extract
2 large eggs
3 cups all-purpose flour
1 tsp baking soda
1/2 tsp baking powder
1 tsp sea salt
12 oz chocolate chips (or chunks, or chopped chocolate)
2 cups golden grahams
2 cups mini marshmallows
3 oz chopped milk or semi sweet chocolate



---
What to do
1.
Preheat oven to 350 degrees.
Using a 10 inch cast iron skillet
, grease with butter or cooking spray.
2.
In a medium size mixing bowl,
add flour, baking soda, salt, baking powder
. Whisk together. Set aside.
3.
Place your butter in a saucepan over medium heat, melt the butter and let it continue to cook. You can stir occasionally.
Once the butter starts to foam, let it keep cooking
… you want it to cook until you see the butter turn golden brown and release this wonderfully fragrant nutty smell. Then remove from heat and immediately transfer to a heatproof bowl. Add two tsp of water into the butter (this adds moisture back into the butter). Let the butter cool,
You want your butter to cool and return to almost solid form
(see note*). This will take about an hour.
4.
Using a stand mixer with paddle attachment, cream together the brown butter and sugars until fluffy (about 1-2 minutes). Beat in eggs and vanilla- mix until just combined (see note*)
5.
Whisk in the dry ingredients and mix on low until just barely combined.
Fold in golden grahams and additional chopped chocolate
– mix gently with a spatula.
6.
Add cookie
dough to cast iron skillet and bake for about 30 minutes
(see note*)
7.
When the pizookie is done baking, let it cool for about 10-15 minutes then top with marshmallows.
If you have a kitchen torch, use that to toast the marshmallows
. OR you can place the pizookie back in the oven and broil the top of the mallows until they are golden brown! (see note*) Once you toast the mallows, YOU STUFF!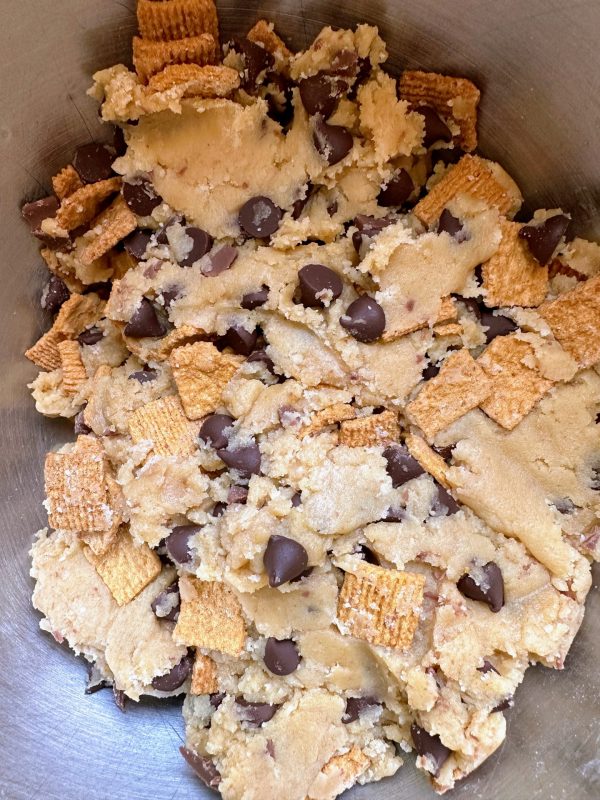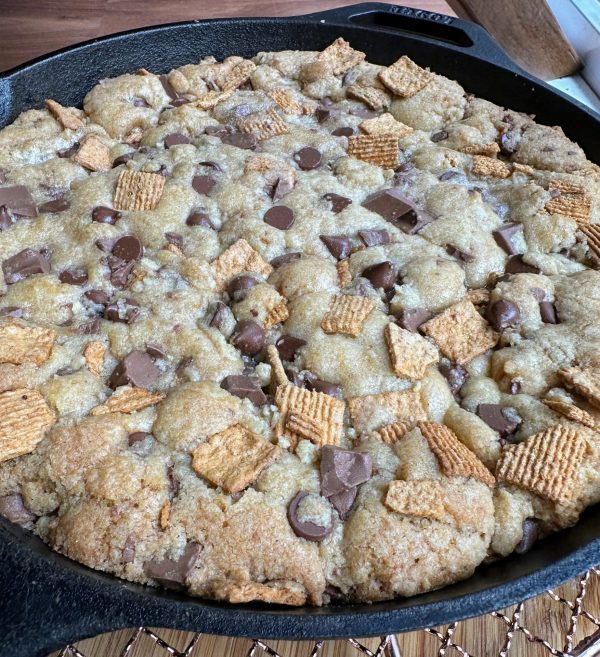 ---
Helpful tips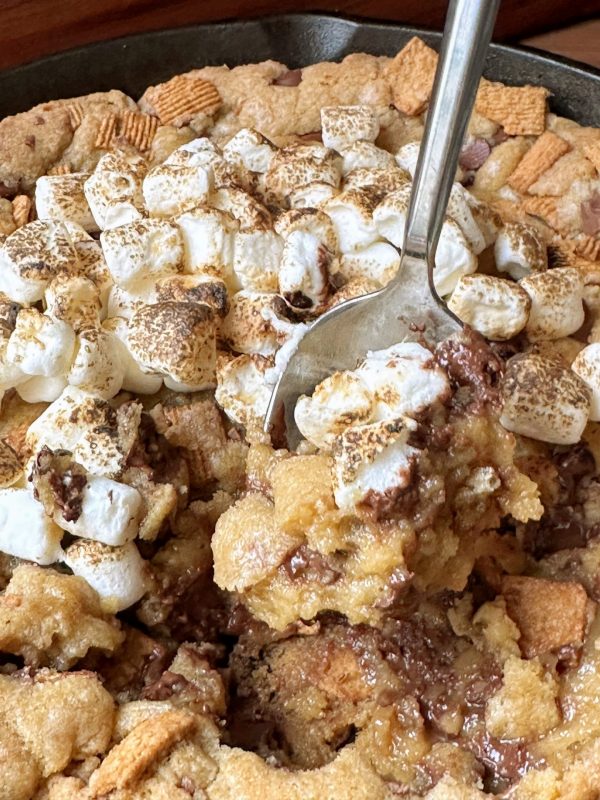 Here are some important Pro tips by Maude
If you are new to baking, browning the butter can feel intimidating. You can totally skip that part and just soften your butter, then mix with the other ingredients. The browned butter gives the pizookie a certain complexity but is not required. The pizookie will still turn out delicious. If you do end up browning your butter, when it's time to cool, I place my heatproof bowl in the freezer to help speed up the firming process. NOTE: Butter should firm up enough but if too stiff, it will be hard to mix with the sugars.
Be carefeul not to overmix your batter. When you add eggs, just beat until barely combined. There is this notion that eggs should be beaten heavily when baking and that is simply not true! Be gentle with the batter and do not over mix the eggs or dry ingredients.
---