Buffalo Chicken Hand Pies
A winning combination
Spicy buffalo chicken and a flaky buttery crust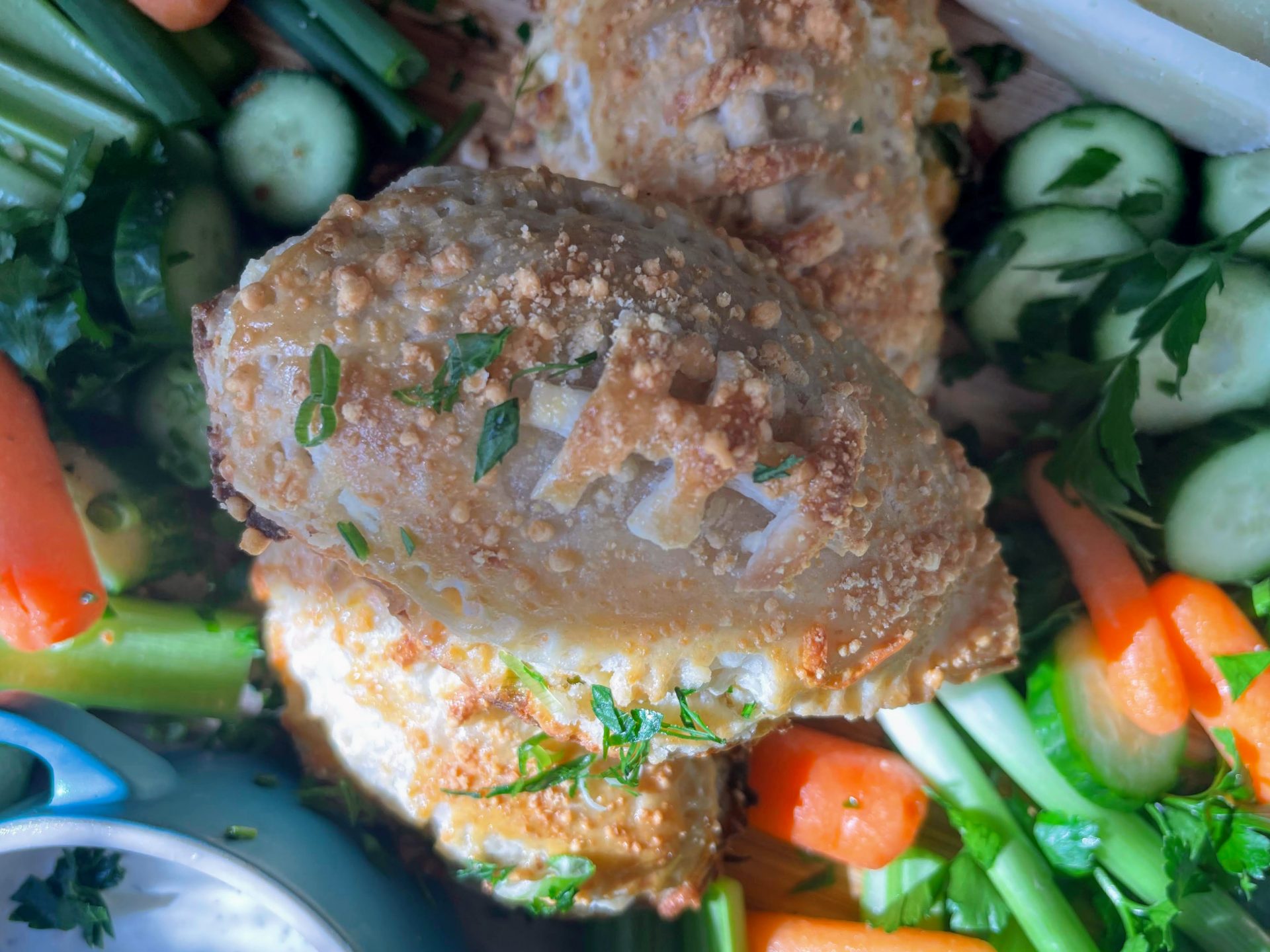 ---
The perfect game food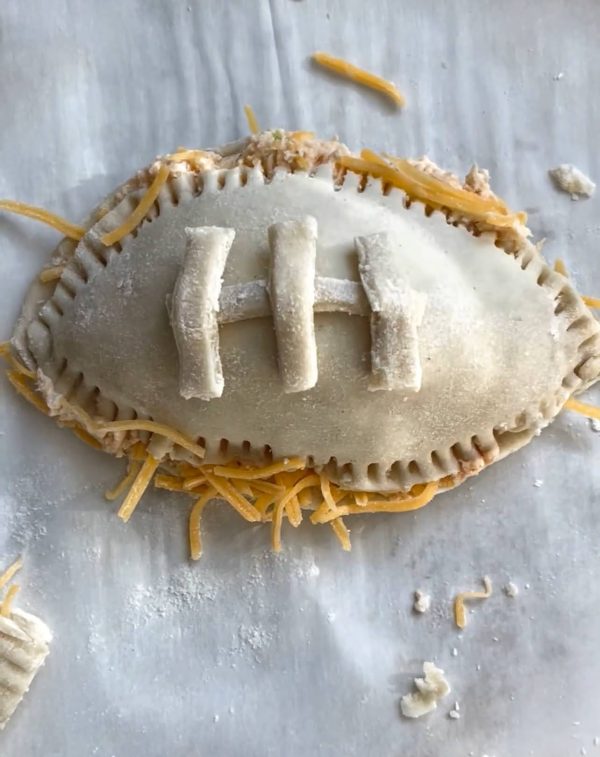 Pairs great with veggies and a cheese board
Smaller than a pot pie, yet super satisfying
Hits the spot when we're talking comfort food
Best when dunked in a side of homemade ranch
---
What you need
Hand Pies
Two homemade pie discs or puff pastries
8 oz of rotisserie chicken
6 oz of cream cheese
3 chopped green onions
1/4 tsp of salt
2 1/2 – 3 tbsp of hot sauce
Pinch of pepper
Pinch of garlic powder
4 oz of shredded cheese (I used cheddar)
Parm for topping
Beaten egg for brushing the pies
Homemade Pesto Ranch
---
What to do
1.
In a medium bowl, mix chicken (skin and bones removed), cream cheese and onions. Add hot sauce (I used 2 1/2 tbsp of hot sauce, but you can use up to 3 or 4 if you like your chicken spicy!) and salt, garlic powder and pepper.
Adjust seasoning to taste!
2.
Roll out pie dough (or pastry) and cut
24 even four inch circles
or football shapes. Place dough on a cookie sheet lined with parchment paper, and freeze for 5-10 min.
3.
Preheat oven to
425F degrees
.
4.
Take an ice cream scoop or tablespoon and place a big helping of the chicken mix onto 12 of the pie cutouts. Place the other 12 pie cutouts on top, then
press with a fork to seal the pies
. Cut a couple skinny strips of the dough to create little laces if you are making football shapes. Freeze pies for another 10-15 min.
5.
Brush pies with the beaten egg,
sprinkle with parmesan cheese
and then bake the pies for 15-18 min. Ovens vary, so start checking at 14 min. You want your pies to be a nice golden brown color.
6.
For the ranch
, chop your fresh herbs so they are super fine. Mix all ingredients in a large glass bowl or mixing cup! This recipe is super easy and delicious! Once everything is mixed, adjust seasoning to taste, chill the ranch for 30-60 min, dip yo pies, and enjoy! Store in fridge for up to 3 days after baking!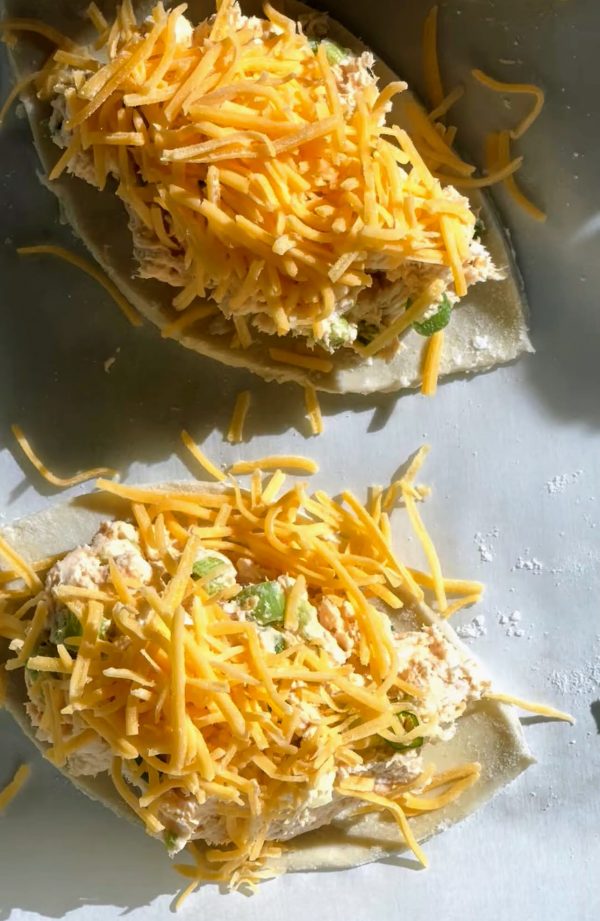 ---
Helpful tips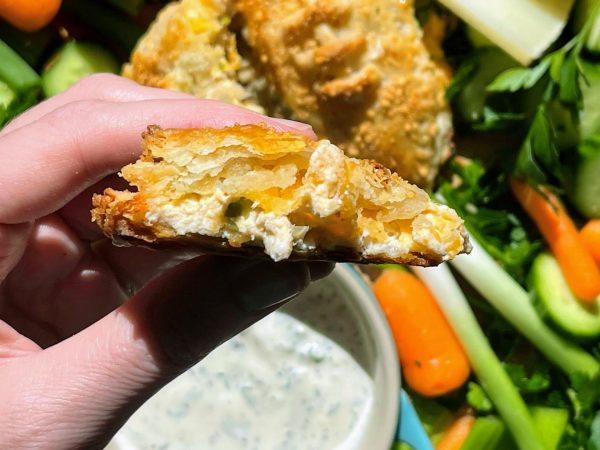 Here are some important Pro tips by Maude
Chilling your dough before baking is critical. If you want flaky layers, chill your pies for at least 30 min before baking.
I find that sometimes I have to add more hot sauce to my mix. You can add up to 5 or 6 tbsp of hot sauce if you like your chicken spicy.
Let your ranch chill for at least 30 minutes or even longer! This allows for all the flavors to marry!
Reheating your pies is easy! Bake your pies at 350 degrees for about 15- 20 minutes. They still taste delicious.
---
---