The star of your childhood lunchbox
You can now make at home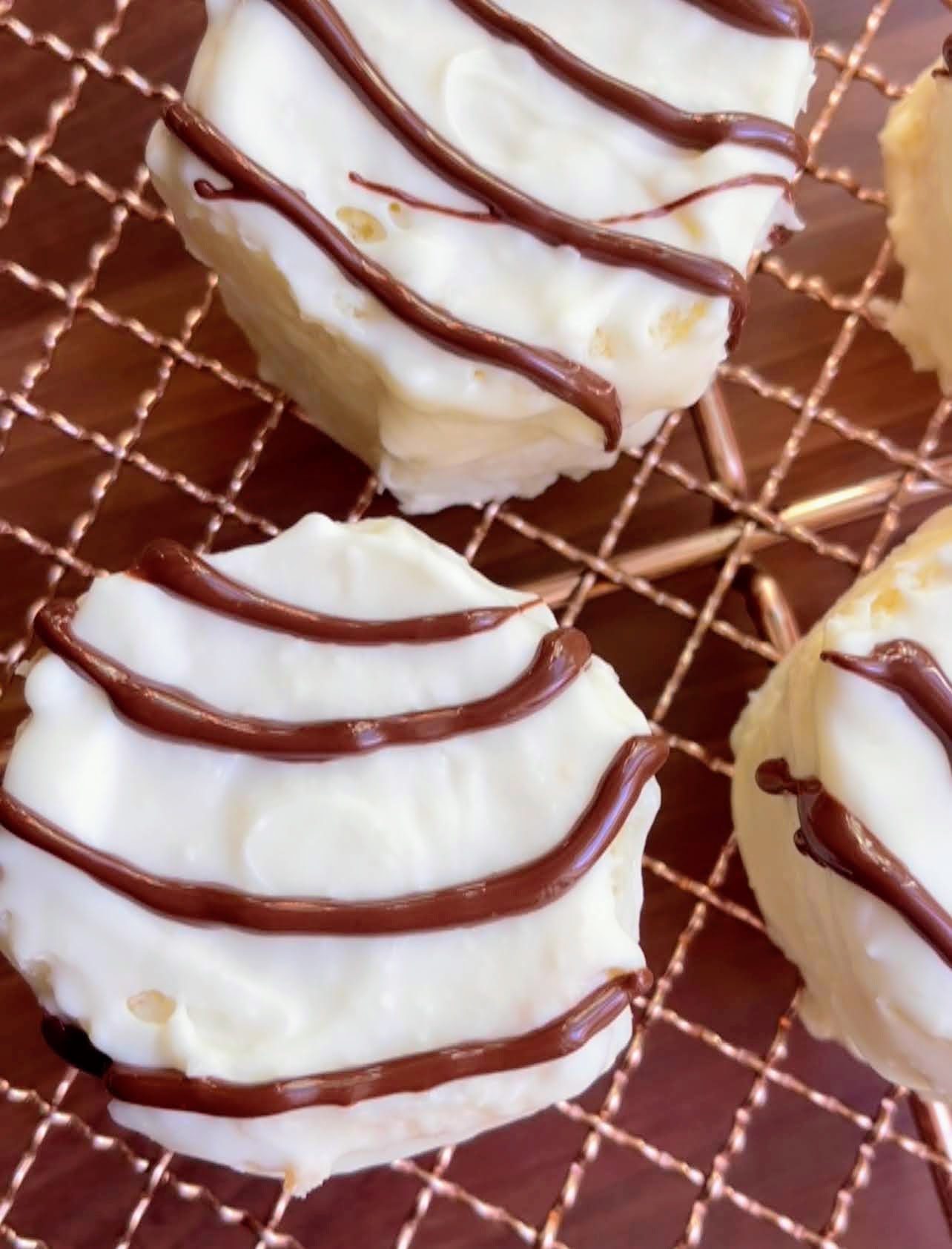 ---
Little Debbie's Finest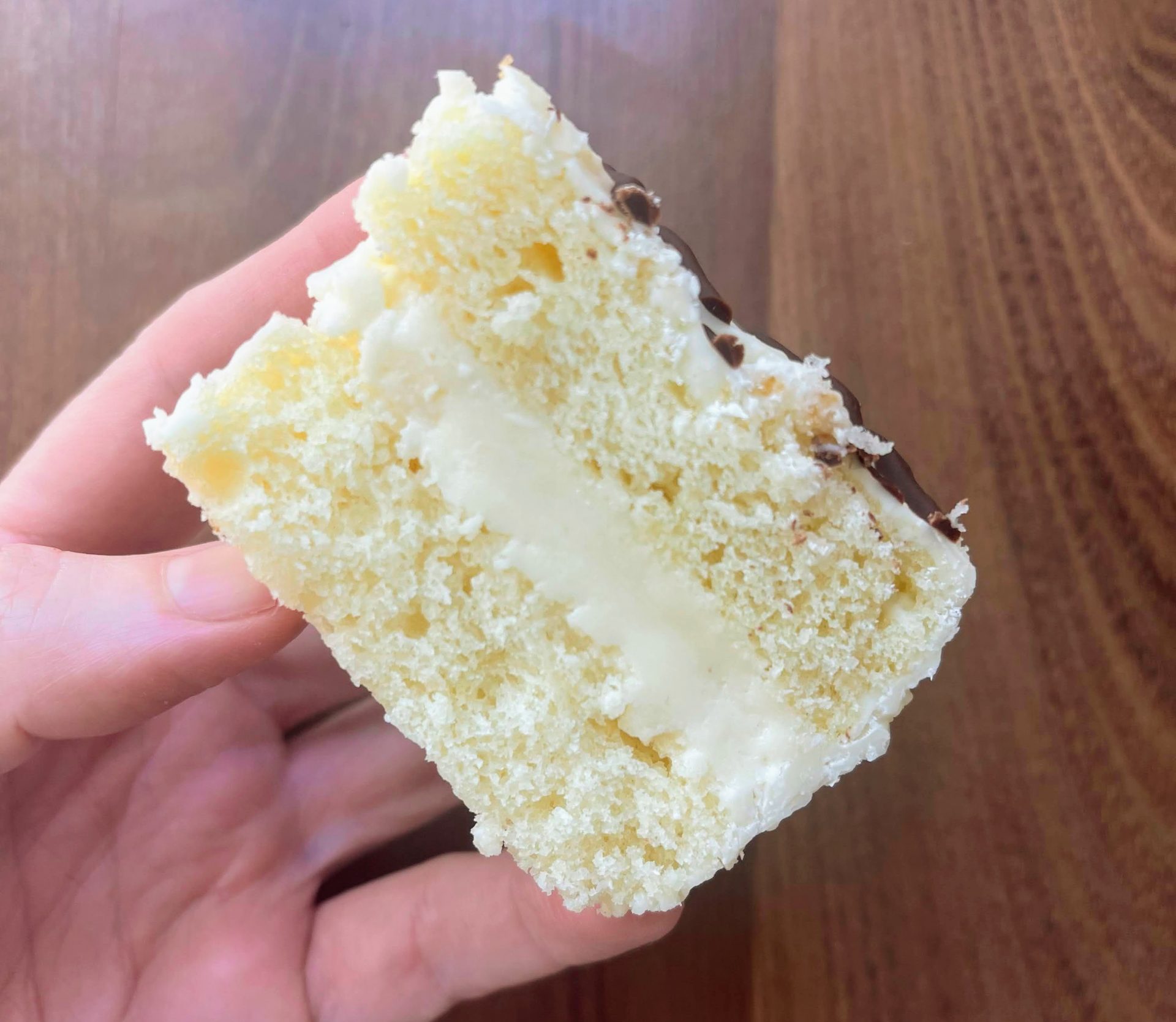 Perfect layers of vanilla and white chocolate
Crunchy outside, with a soft, delicious filling
Those memorable chocolate strips
And… easy to recreate at home
---
What you need
Small Batch Vanilla Cake
3/4 cup cake flour
1/4 tsp salt
3/4 tsp baking powder
1/8 tsp baking soda
3 tbsp vegetable oil
1/2 cup of sugar
1 whole egg room temp
1 egg white room temp
1/3 cup of full fat buttermilk room temp
Vanilla Marshmallow Buttercream
1/2 cup room temp butter
2/3 cup marshmallow fluff
1/4-1/2 cup powdered sugar (see tips below)
1-2 tsp of half and half
1 tsp of vanilla extract
Chocolate Coating
6 oz white chocolate melting wafers (see tips below)
2 oz semi sweet chocolate
1/2 tsp of coconut oil
---
What to do
1.
Preheat oven to 350 degrees. Prepare a
6 inch cake pan
, spray the with cooking spray and line the bottom with parchment paper. (I trace the bottom of my pan over parchment paper, then cut it out and it fits perfectly in the bottom of the pan.)
2.
Using a hand mixer,
whisk oil and sugar
in a medium bowl for 1 minute. Add egg, egg white and vanilla. Combine until smooth.
3.
In a separate bowl, sift and
combine all dry and ingredients
.
4.
In separate intervals,
fold the dry ingredients and the buttermilk
into the wet ingredients and mix until just barely combined. (I use a spatula at this point, because you don't want to overmix!)
5.
Pour the
batter into your prepared pan
and then bake for about 22-25 min. (Ovens vary, so invest in some toothpicks and start checking the middle of the cake with a toothpick around ~20-22min.) Let the cake cool.
6.
For the
marshmallow buttercream
, add your fluff and butter to a medium bowl and begin mixing with a hand mixer. Then dd powdered sugar and cream and then vanilla. Whip until you reach a nice consistency that isn't too runny.
7.
When your cake is cool, turn it out onto a a flat surface. I like to cut my cake in half, then use cookie cutters to cut desired shapes. This
six inch cake should yield about 6-8 pieces
total (depending on size of cookie cutter) Spread a layer of the buttercream onto three of four of the pieces of cake. Then take the remaining pieces of cake and create little sandwiches. I like to run a knife the middle of the sandwich to clean off any excess buttercream but also to create a smooth sandwich. Place the sandwiches in the fridge while you melt your chocolates.
8.
For the
white chocolate
, pour your melting wafers into a glass bowl, then place that bowl over a double boiler saucepan filled with about 2 inches of water. Turn your stove to a
very low heat
and let the chocolate slowly melt. (Be patient, this takes several minutes, see tips below)
9.
Once chocolate has melted, then
roll your sandwiches through the the chocolate
(I keep my bowl on top of the saucepan so that the chocolate stays warm and pliable). Use a small spoon to place extra chocolate on top of the sandwiches.
10.
Place your semi sweet chocolate and coconut oil in a microwave safe bowl and heat for 1 min. You can then take a spoon and shake the chocolate onto the cake sandwiches. Or, if you want to be fancy, place your chocolate into a piping bag and pipe your lines. Let the chocolate harden for about 10-15 min. You can store these bad boys in the fridge or at room temp. The choice is yours, but man,
are you gonna love eating these
!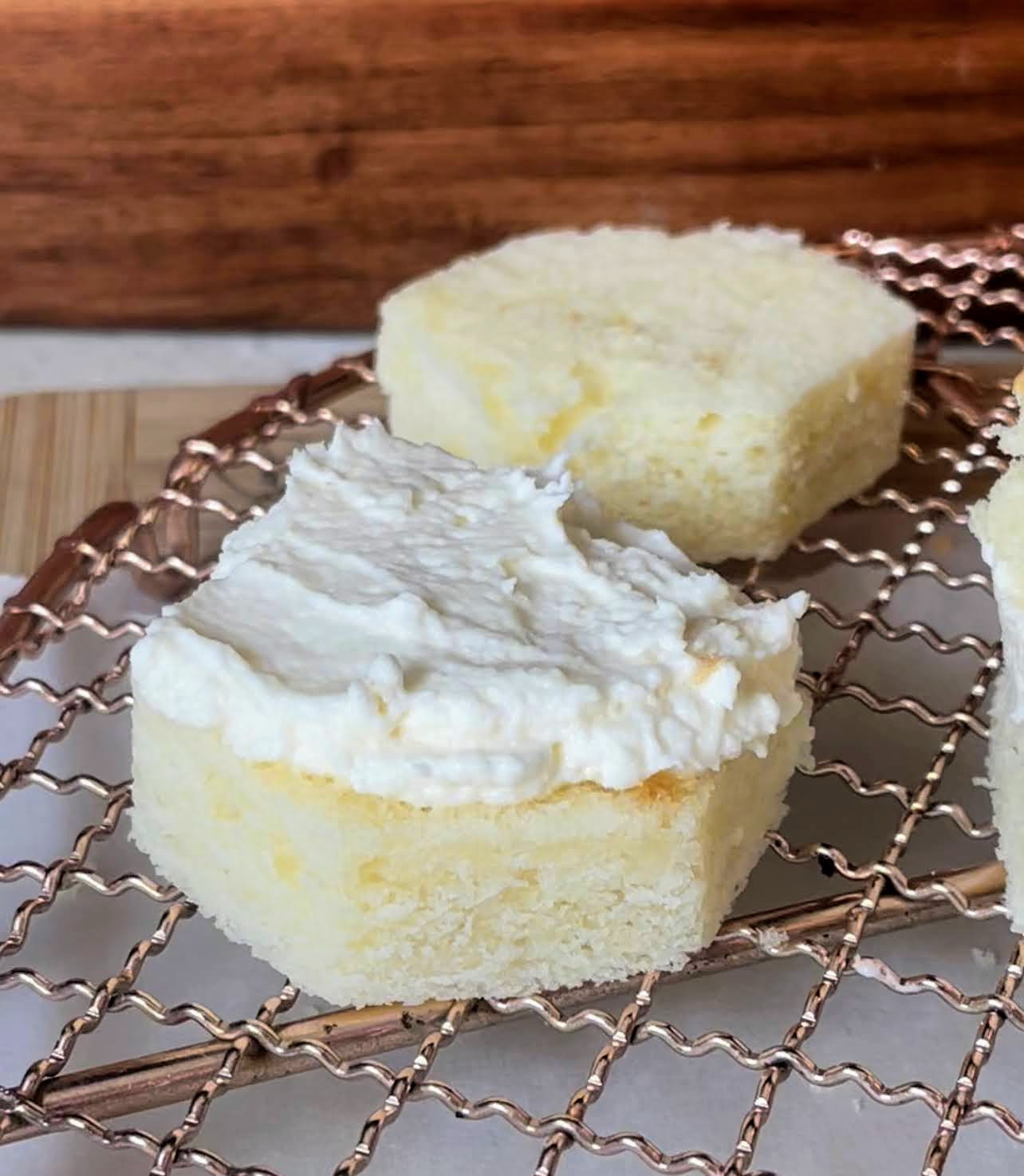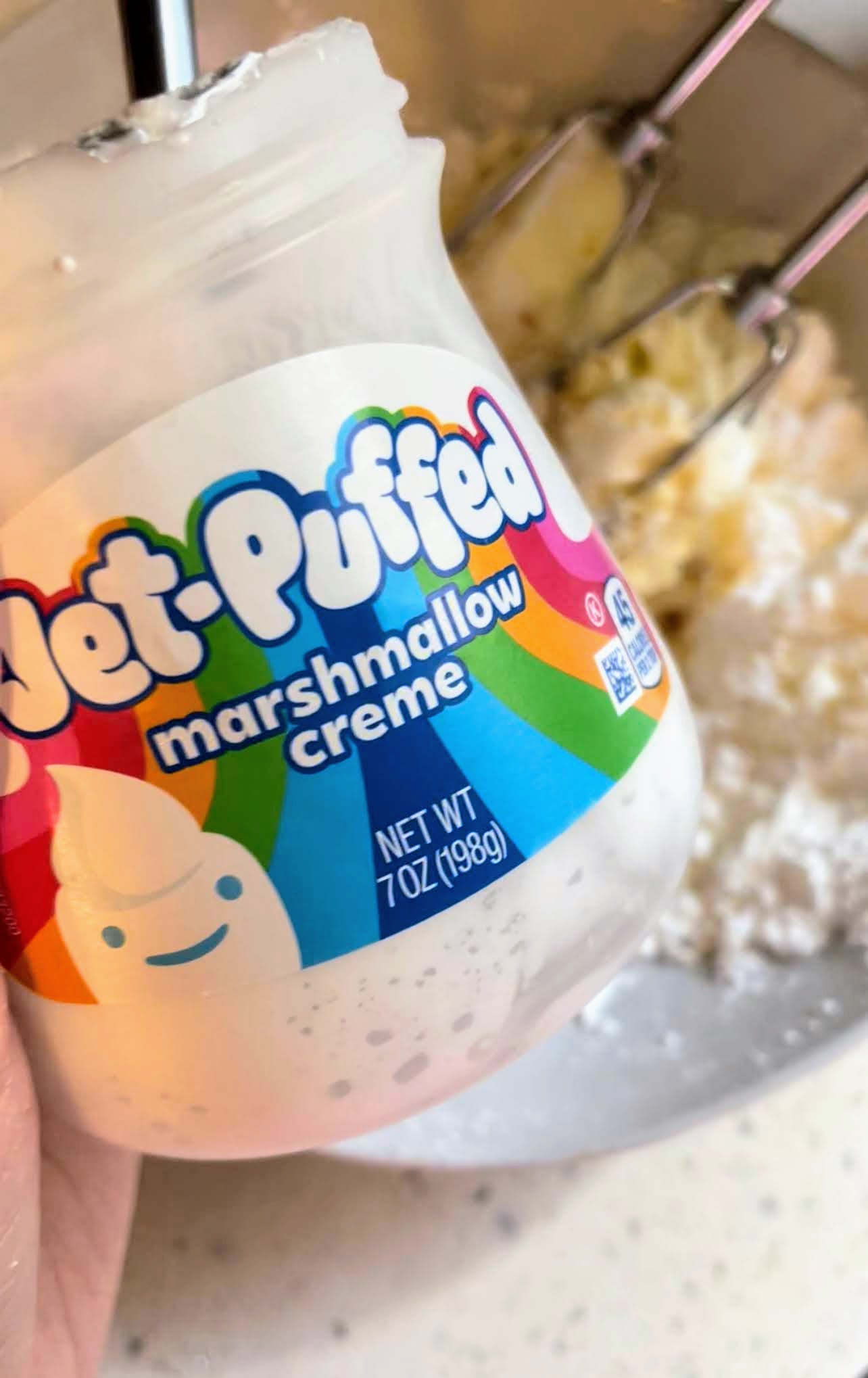 ---
Helpful tips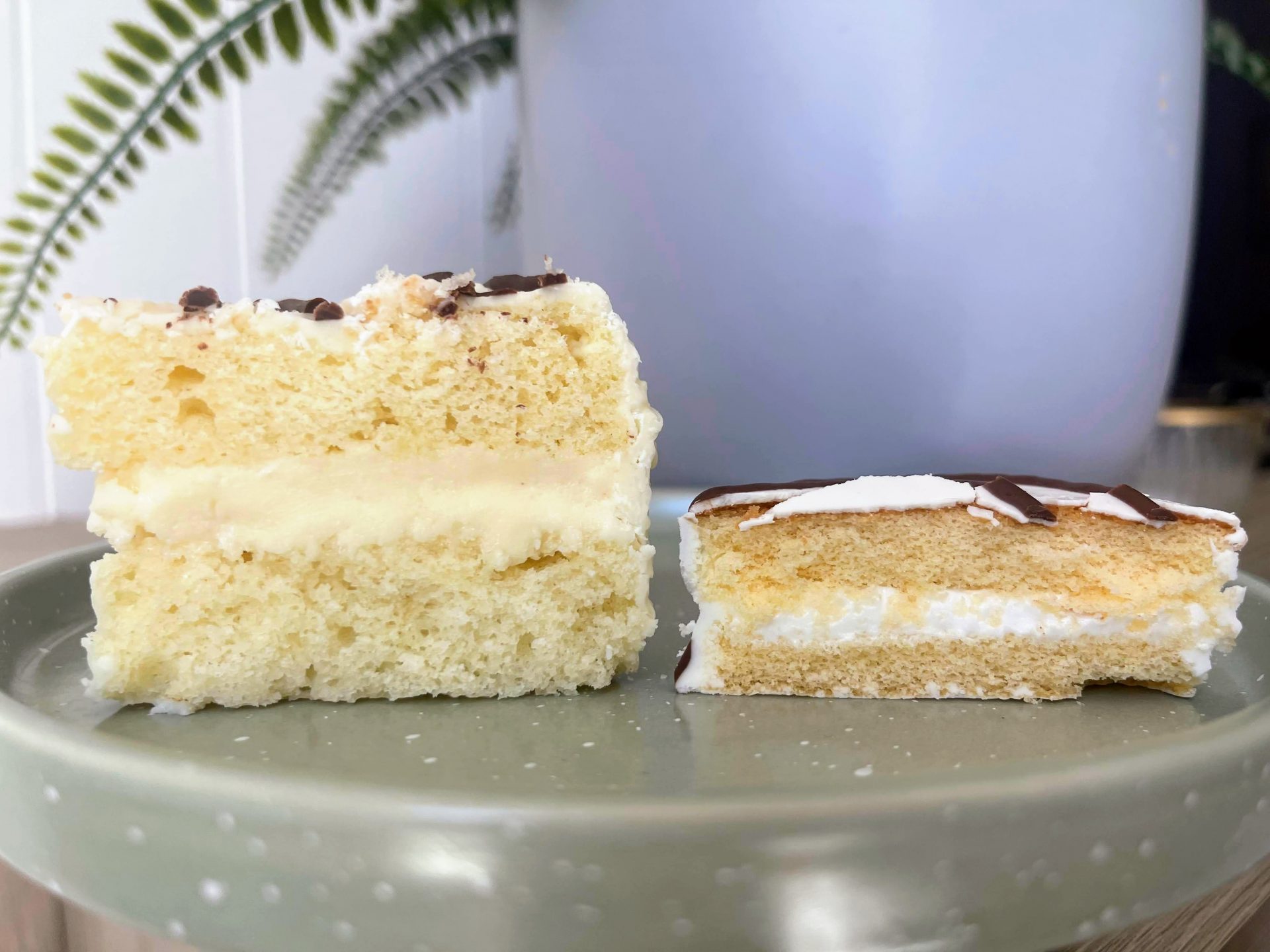 Here are some important Pro tips by Maude
I use Ghiradelli's melting wafers- you can find and purchase them here.
I find white chocolate to be impossibly frustrating, so do yourself a favor and heat the wafers low and slow. If you heat them too fast and too high of heat, they turn into a big hard blob! Its super frustrating- don't make my mistakes!
When rolling your sandwiches in the white chocolate, you have to work fast because once the chocolate hits the air, it dries very fast. (see why I hate it?!)
As you mix your buttercream, try 1/4 of sugar before you add 1/2 cup. Everyone's sweetness levels vary, so taste as you go!
---