5 stars (based on 1 reviews)
---
A soft, buttery, vanilla cookie
Classic pink glaze
Lots of sprinkles
Homer would definitely approve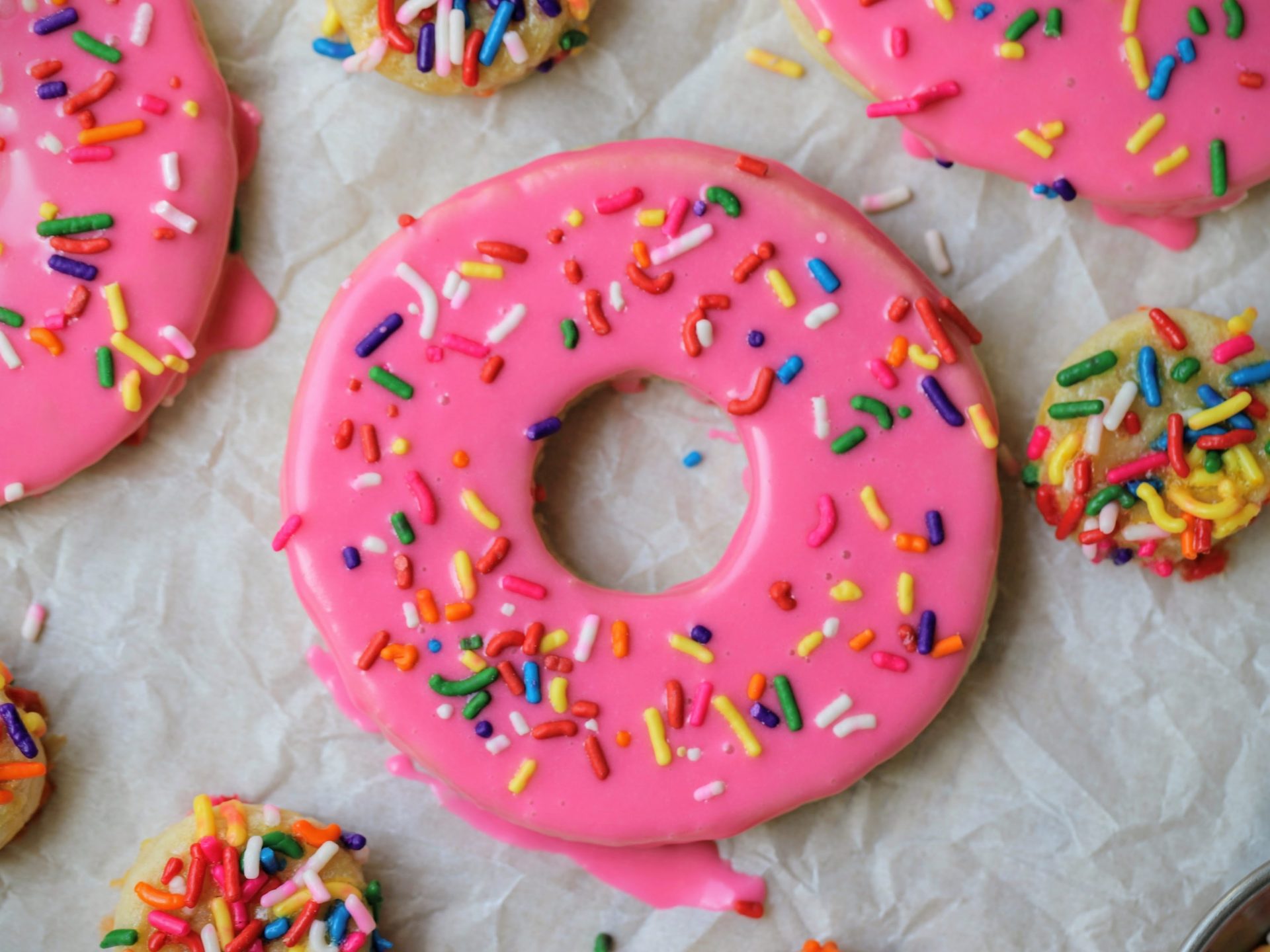 ---
What you need
Donut Cookies
2 3/4 cups flour
1/4 tsp baking soda
1/4 tsp cream of tartar
1/2 tsp salt
1/2 cup unsalted butter
1/3 cup Crisco (plain or butter is fine)
3/4 cup sugar
1/4 cup powdered sugar
1 egg
1 1/2 tsp vanilla
Donut Glaze
1 cup powdered sugar
1 tbsp half and half
1 tbsp water (if needed)
pink food coloring
---
What to do
1.
Using a stand mixer with a paddle attachment,
beat the butter
, shortening and sugars together until the mix is light and fluffy, about 3 minutes.
2.
Add your egg and vanilla. Mix well to combine.
3.
Sift all dry ingredients into the bowl. I like to run the mixer on low for about 4 seconds and then use a
spatula to fully incorporate everything
.
4.
At this point, I like to turn my cookie dough out onto plastic wrap, seal tightly, and chill for at least two hours (overnight preferred). When ready to bake, take dough out of the fridge, let dough rest at room temp for about 30 minutes or so (or til soft enough to roll out). Sprinkle a countertop generously with flour.
Using a rolling pin, GENTLY roll your dough to about 1/2 – 3/4 inch thick. These are donut cookies, they must be thick! Form your cookie shapes using a round cookie cutter.
Place cookies on a cookie sheet lined with parchment paper. This cookie recipe, yields about 15-18 cookies (depending on size). Make sure cookies are about 2 inches a part (you will need to bake in batches).
5.
Preheat oven to 350 degrees. Now: we make our donut holes! Take a frosting tip (or a very small cookie cutter, much smaller than your original cookie cutter) and cut a hole in the middle of the cookie.
Place cookie sheets in the fridge to chill for at least 15 minutes before baking(*see note below).
6.
Bake for 8-9 minutes. Cookies should not brown and
should look slightly under baked
.
Thats ok! Thats what makes them tender and delicious later. At this point, I like to reform my donut holes.
Sometimes, the holes fill back in a little too much, so I go back in with my frosting tip and puncture the hole on each cookie again. This way the donut hole is pronounced! Let cookies rest for at least 20-30 minutes.
7.
For donut glaze, add powdered sugar to a bowl. Add half and half and the pink food coloring.
Begin mixing with a fork- this helps even out the powdered sugar lumps. Add water if the glaze is too thick.
You should be able to lift the glaze with a fork and it should drizzle with ease back into your bowl. That's the right consistency!
8.
To frost your cookies, simply drop the cookies (one at a time) into the bowl of glaze, pick up and lift the cookie about 5 inches up from the glaze.
Let excess icing dribble off of the cookie. Set to the side to rest and immediately, decorate each cookie with sprinkles. Enjoy these tasty little cookie donut hybrids with coffee or a glass of milk.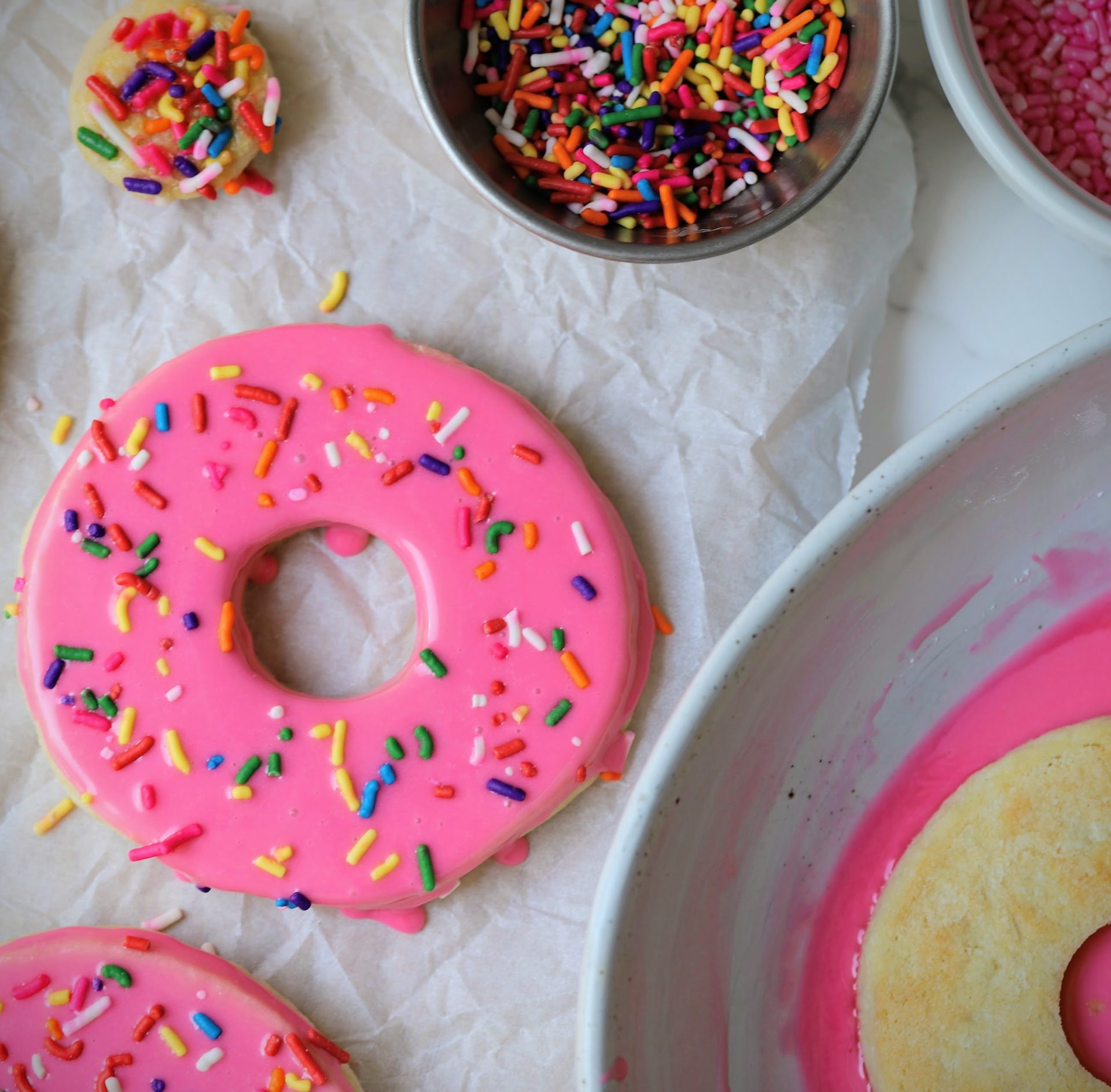 ---
Helpful tips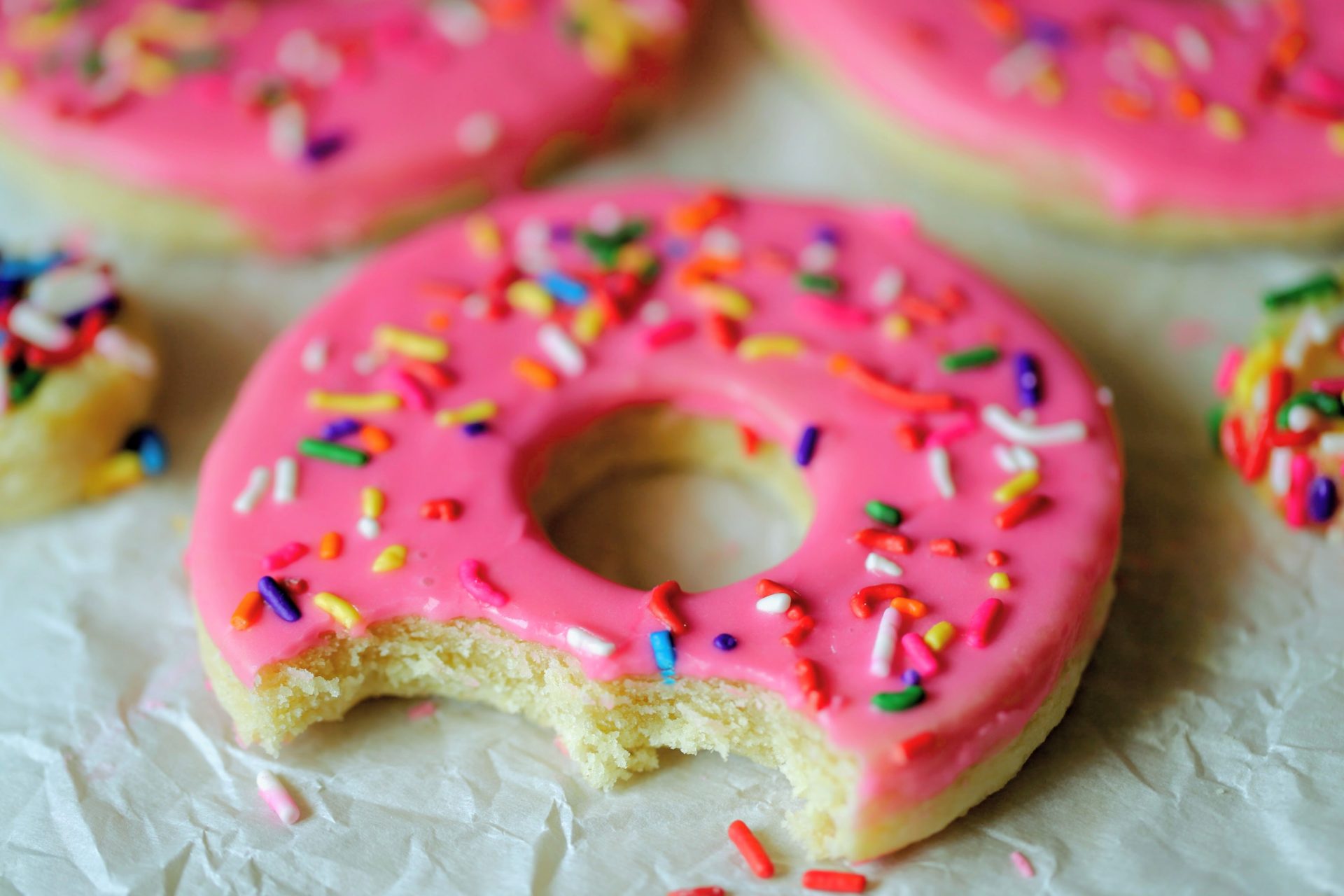 Here are some important Pro tips by Maude
Chilling your dough after you mix it makes a difference in taste. Try to hold out! There's some fancy science to it but essentially, that fridge time gives the flour and wet ingredients the ability to bond. And in turn, flavors develop. If you try baking one cookie right after mixing your dough, and then another after chill time… the difference is incredible. The chilled cookie has much more complexity!
Lots of dough chilling in this recipe! Once you've made the donut holes in your cookies, you must chill them because we don't want them to spread too much when they bake.
Remember, if you make bigger cookies, you have a longer bake time. During the baking process, my golden rule is: if the tops of the cookies no longer look greasy, and hopefully the edges are not browning, you have perfectly baked cookies- they are done! If the tops of your cookies still look wet aka "greasy" they need just a little more baking time. But don't walk away from your oven! They likely need maybe 1-2 minutes more!
---