5 stars (based on 2 reviews)
---
Incredibly decadent
Your new favorite condiment in the kitchen
---
Don't be scared of making homemade caramel sauce
100x better than store bought caramel
Plop on ice cream, brownies, cheesecakes, anything really
Lasts for 2-3 weeks in fridge
Gluten free yumminess
---
What you need
1/4 cup water
1 cup of sugar
1/2 cup heavy whipping cream, at room temp
3 tbsp of unsalted butter, at room temp
1 tsp vanilla extract
3/4 – 1 tsp flaky sea salt (to your taste preference)
---
What to do
1.
Pour water and sugar into a large saucepan (*see note) over medium heat. Stir as soon as you place the saucepan on the burner, keep stirring to dissolve the sugar. Stop stirring when the sugar water
starts to boil.
2.
You may be tempted to stir, but don't, let the mixture boil. Depending on the size of your saucepan, the mix may start to turn a golden color after about 6-8 minutes. Do not walk away from this mix, have your whisk and whipping cream ready to pour.
3.
Once your mix reaches that
deep amber color
, remove from the heat ASAP. Gently and slowly pour your
whipping cream and begin whisking
. (a chemical reaction will happen, so be ready to see some bubbles!) Keep whisking until all cream is poured in.
4.
Next, add your butter, vanilla and salt. Give the mix a nice stir.
5.
Lastly, pour your sauce into a
glass bowl or measuring cup (something that is heat proof)
, let to sit at room temp for about 15 min, and then chill in the fridge for another couple of hours. This mix will last in the fridge for 2-3 weeks! Remove from fridge about 10-20 minutes before serving so it can soften. The sauce thickens as sits in the fridge!
Enjoy of your favorite desserts or heck, through it in your morning coffee or latte!
---
Helpful tips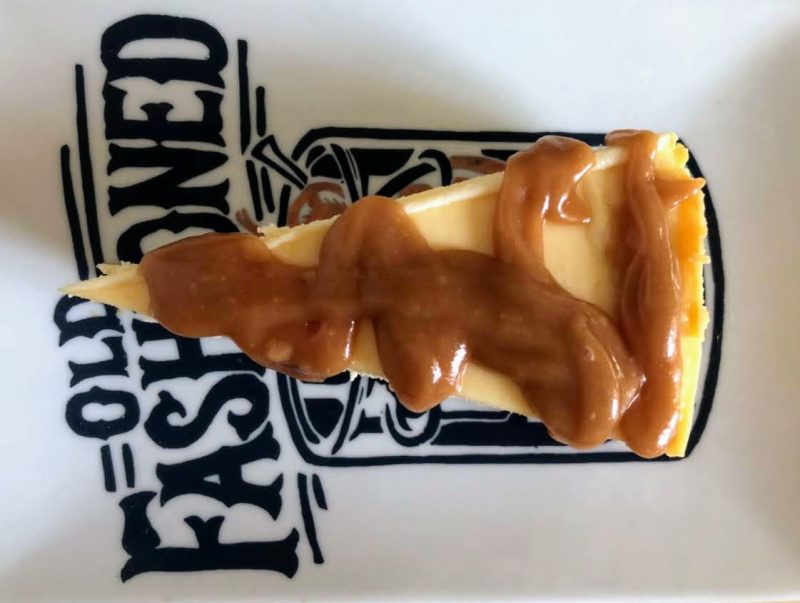 Here are some important Pro tips by Maude
Make sure to you a bigger pot than you think you need. When we pour the whipping cream into the sugar water, the mix will bubble up!
Room temp whipping cream is a must! I've tried pouring the cream cold and caused a chunky caramel mess. Don't skip this step!
Don't walk away from your saucepan. The sugar can turn color quicker than you think.
If you are looking for a small batch of this caramel sauce, try dividing the recipe by 2.
Getting to the 'right' amber color takes some patience and skill! Try to wait for that deep amber color and don't remove from the heat before. Otherwise your sauce wont tastes as rich. On the same coin, don't let your sauce get too brown, otherwise it will turn bitter
---