Forget the flour
Bring on the fudge
WARNING:
Cake is very addictive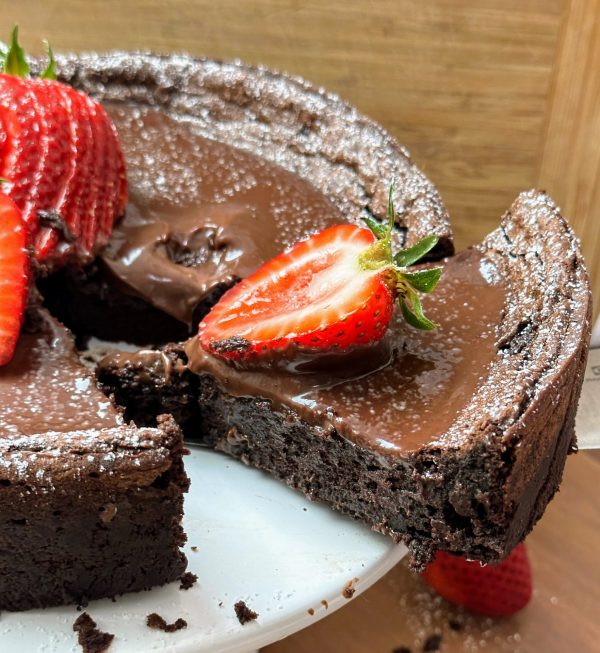 ---
What you need
Chocolate Fudge Cake
113 grams (1 stick) unsalted butter
213 grams semisweet chocolate chips
100 grams granulated sugar
50 grams brown sugar
1 tsp instant espresso powder
1/4 tsp fine salt
1 tsp vanilla extract
3 large eggs
43 grams Dutch-process cocoa (I use hersey's dark cocoa powder)
2 tbsp hot coffee
120 grams cold heavy cream



Chocolate Ganache

170 grams semi sweet chocolate chips
113 grams whipped cream



---
What to do
1.
Preheat oven to 350 degrees. In a heatproof cup or bowl, melt chocolate chips and butter.
Microwave is fine- cook for about 1 minute
. Mix with rubber spatula. Let the mix cool for about 5 minutes.
2.
Pour chocolate and butter into a mixing bowl, add sugars, salt, espresso, vanilla and eggs.
Using a whisk, mix the ingredients rapidly for about 1 minute
. Add cocoa powder and hot coffee. Fold with a spatula.
3.
Using a handheld mixer,
beat heavy whipping cream on high until you see soft peaks.
Then fold mix into the chocolate batter (*see note).
4.
Pour mixture into a greased 8 inch pan (*see note), lined with parchment paper and bake for about 30 minutes.
The middle of the cake should jiggle,
but edges should be set and puffed up. Let cool, then run a knife along the edges of the cake (*see note). Cover and chill for at least 4 hours (*see note).
5.
For the ganache: melt chocolate and heavy cream in a
heatproof bowl in microwave. Cool for about 10-15 minutes
.
6.
To remove the cake from pan, place a plate on top of the cake pan and flip the cake pan over.
You might have to wiggle the pan
, but because you used the knife around the edges, the cake should slip right out. Then use your hands and gently turn the cake back over onto a platter or plate.
7.
Pour
ganache over cake, and smooth with a knife
. Serve the cake cold! Enjoy with powdered sugar and fruit!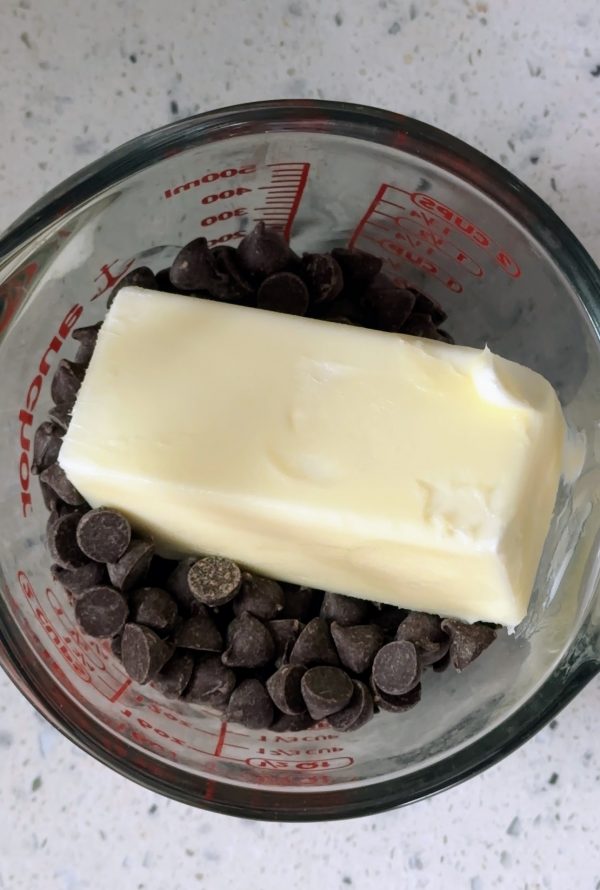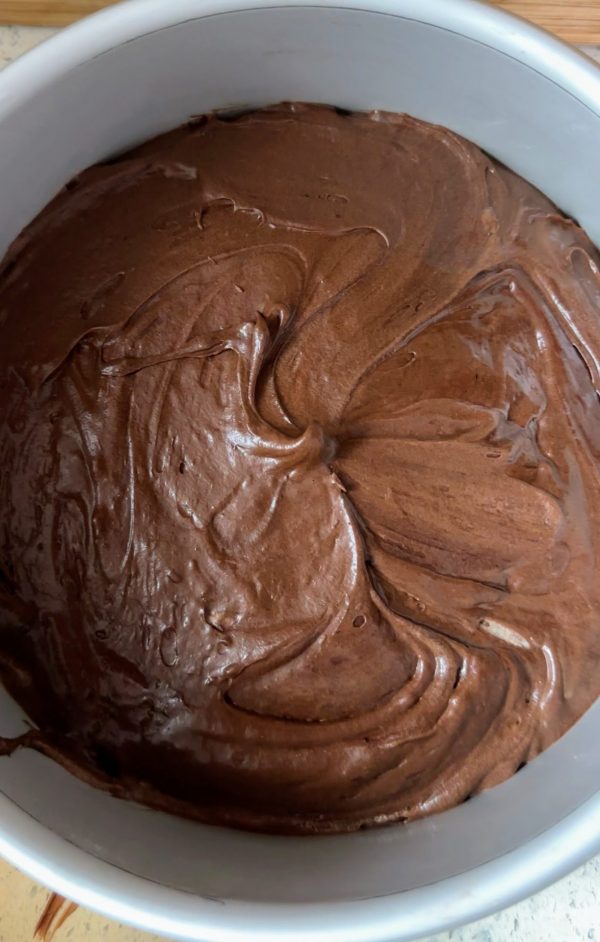 ---
Helpful tips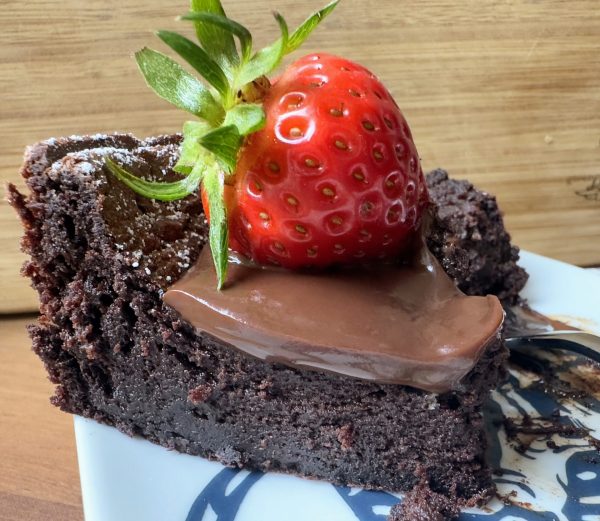 Here are some important Pro tips by Maude
When folding the whipped cream into the chocolate mix, of course be gentle. And at the same time, make sure you fold and smooth out the mix so there are no strips or ribbons of white. This takes some time, but worth it, because the end result will be a deep, beautiful chocolate cake (with no white streaks!)
When the cake is hot out of the oven, running a knife along the edges will help you with cake removal later. The knife helps the cake from sticking to the sides of the pan after cooling.
Four plus hours of chilling, is really necessary for this cake! Because there is no flour, the cake needs time to settle in and shape up! I would even recommend letting this cake sit overnight, because damn, it is so good the following day! The chocolate flavor is more intense!
I use an 8 inch pan for this recipe. You can totally use a 7 or 9 inch if that is all you have. Time frame may vary, (7 inches may take a few more minutes to fully bake, 9 may take less, so take that into consideration.) The inside of the cake should register at about 190-195 degrees. When it reaches that temperature, it is done!
---