Your favorite bakery item
Is now supersized, extra crunchy and incredibly buttery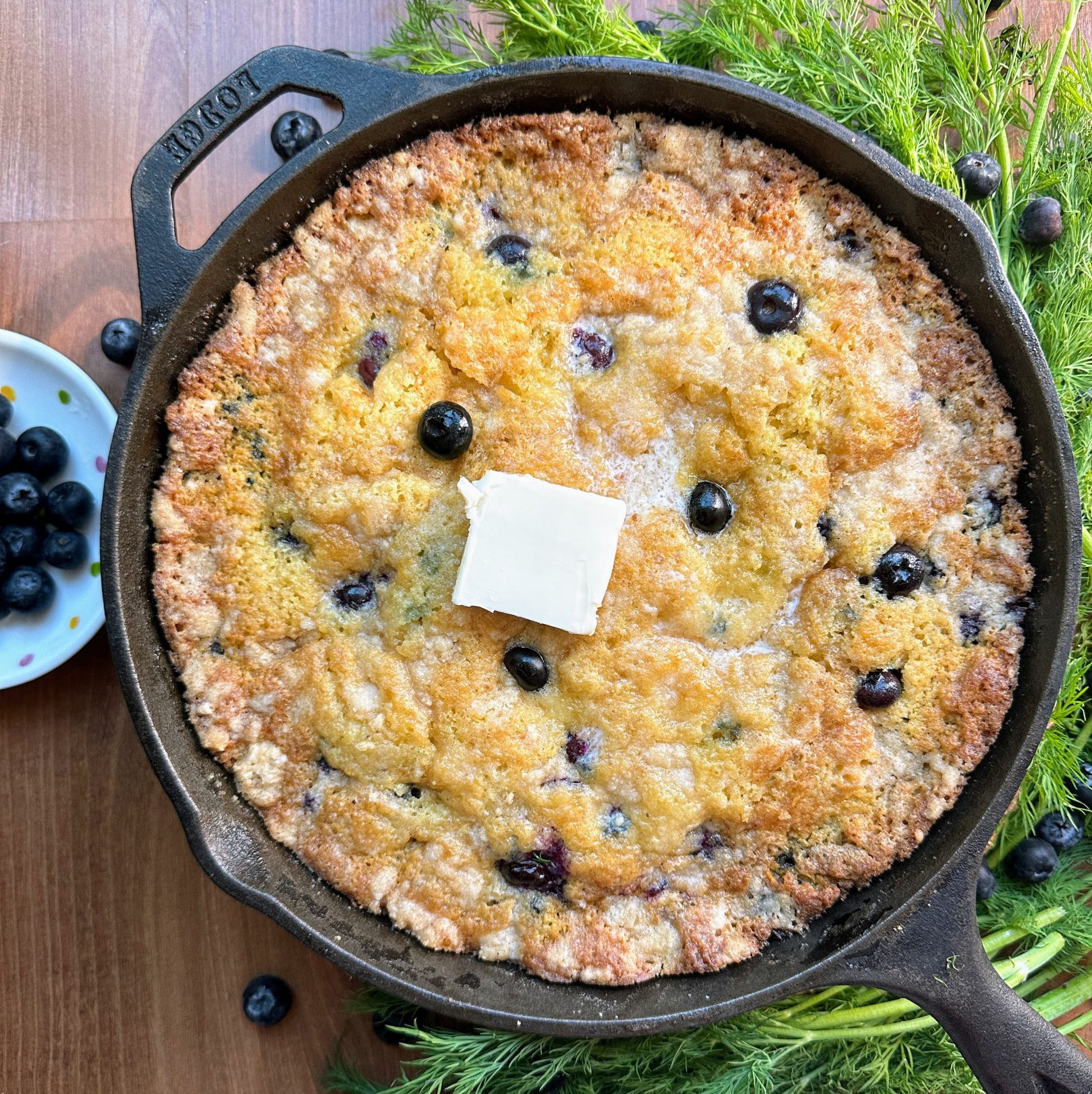 ---
What you need
Streusel Topping
3 tbsp melted unsalted butter
1/2 cup all-purpose flour
1/4 cup granulated sugar
1/4 cup brown sugar
Pinch of salt




Blueberry Muffin

1 and 3/4 cups all-purpose flour
1 tsp baking soda
1 tsp baking powder
1/2 tsp salt
1/2 cup unsalted butter, melted and cooled
1/2 cup granulated sugar
1/4 cup packed light brown sugar
2 large eggs, at room temperature
3/4 cup buttermilk, at room temperature
2 tsp pure vanilla extract
1 and 1/2 cups blueberries
Zest from one lemon
---
What to do
1.
Sift all dry ingredients
into a medium sized
bowl. Set to the side.
2.
Zest one lemon and place zest into a large bowl. Add eggs, vanilla and sugars. Mix until everything is incorporated.
Gradually mix in your dry ingredients
. Then slowly pour in buttermilk and gently mix. Then add your blueberries. (*Note I mixed everything with a whisk and spatula, see more notes below)
3.
Preheat oven to 425. Add 2 tbsp of butter to a medium sized cast iron skillet. Place
skillet into oven and let the butter melt
and start to sizzle.
4.
Remove skillet from the oven and immediately sprinkle a handful of sugar (*see notes).
Then pour in your batter
. I like to plug in a few more blueberries.
5.
Mix melted butter flour, sugars and salt,
then sprinkle on top of the muffin
batter.
6.
Bake the
muffin for about 10 minutes at 425
and then reduce the heat to 375 degrees and cook for another 10-15 minutes. (*Note: To check done-ness, I use a toothpick and poke around the muffin. If the toothpick comes out clean or there are a few wet crumbs, your muffin is ready!) Top with butter and maybe a little cinnamon, this muffin is so good! Enjoy! Store at room temperature for 2-3 days.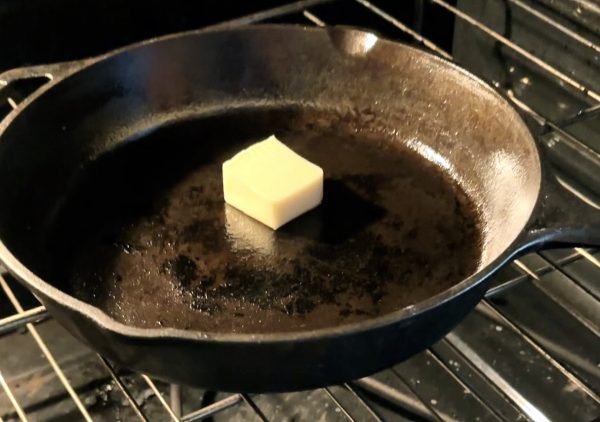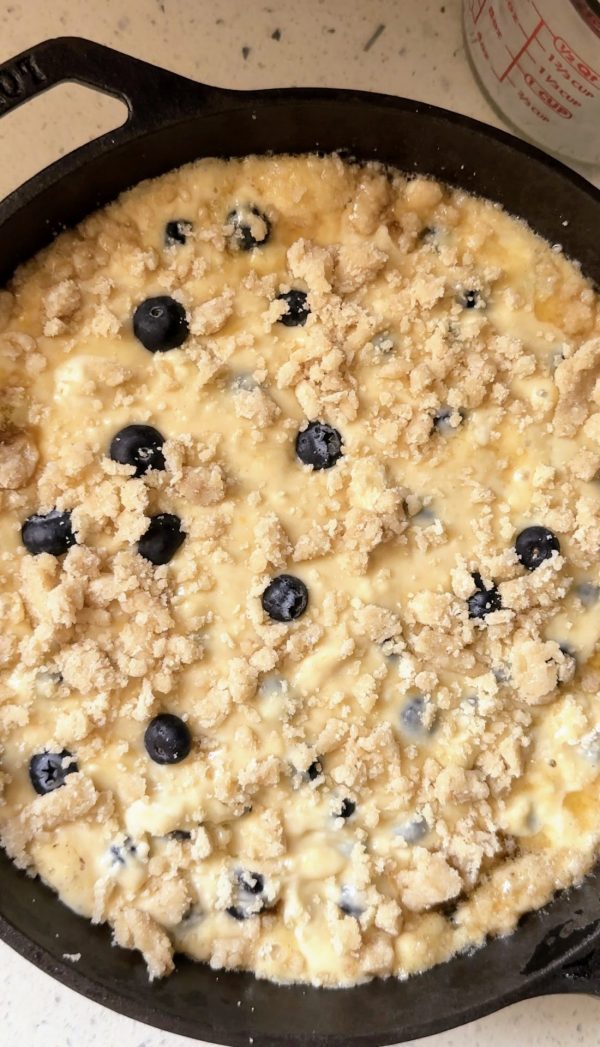 ---
Helpful tips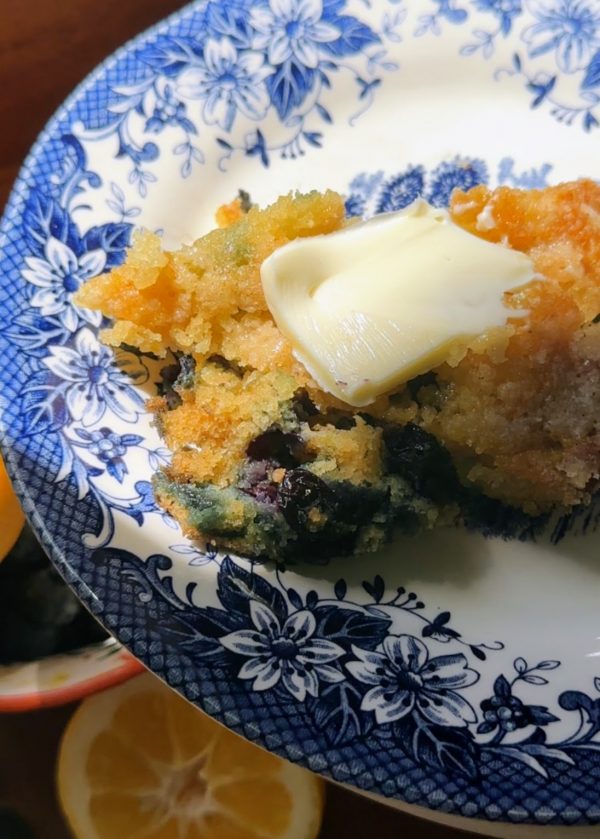 Here are some important Pro tips by Maude
This blueberry muffin batter is incredible delicate, so you want to be gentle with it and DO NOT overmix. I usually whisk the wet ingredients and then gentle fold in the dry ingredients and blueberries. You want to love your batter tenderly. 😀
When you add butter to the cast iron and then sugar to the melted butter, the result is an extra crunchy and moist crust. Do not skip this step!
During the baking process, you find that the middle is still wet, but the top is browning, feel free to cover the top with foil so that the top doesnt brown too much!
---