Warm, comforting cookie
Gooey, buttery glaze
Crunchy, oat topping
Perfection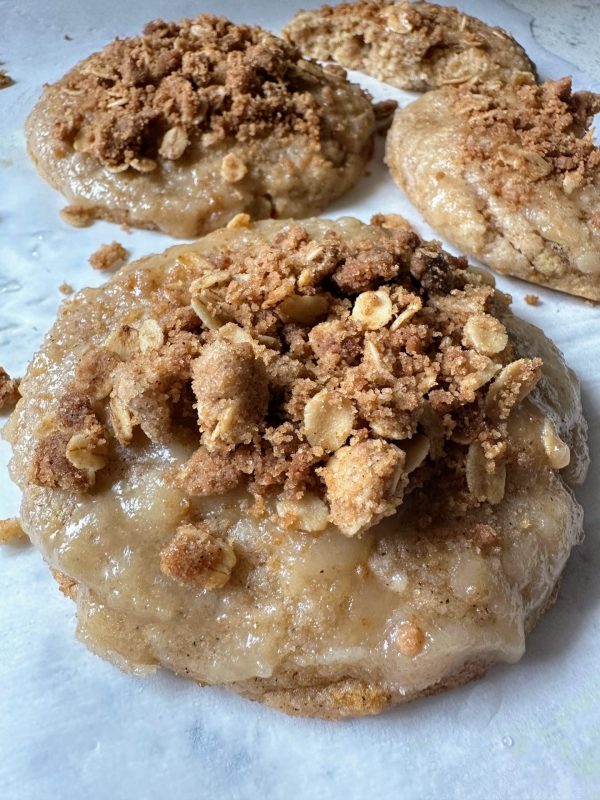 ---
What you need
Cookies
3/4 cup unsalted butter, softened

1/2 cup granulated sugar
1/4 cup brown sugar

1 large egg, room temp

1 tsp maple extract
1 tsp vanilla extract

2 1/4 cups all-purpose flour
1 tsp ground cinnamon

1 tsp cream of tartar

1/2 tsp baking soda

1/4 tsp salt




Butter Glaze

2 tbsp butter
2 tbsp powdered sugar
2 tbsp brown sugar
1-2 tsp water
1/4 tsp vanilla




Oat Crumble

1⁄2 cup butter
3/4 cup brown sugar
1/4 cup granulated sugar
3⁄4 cup flour
3⁄4 cup oatmeal
1⁄2 teaspoon cinnamon
Pinch of allspice or nutmeg
Pinch of salt
---
What to do
1.
Using a handheld mixer, beat sugars and butter until light and fluffy.
Add, eggs, maple and vanilla extracts
. Sift in dry ingredients. Mix the dry ingredients with a spatula so the dough isnt overworked. Mix until just combined. Refrigerate for at least 2 hrs- overnight preferably!
2.
Preheat oven to 350 degrees. Break the dough into 8 semi-large cookies, roll into balls and press down with hands to flatten.
Bake for about 8-10 minutes
. (I remove my cookies from the oven when they look underbaked because I like my cookies gooey).
3.
While cookies cool, make the butter glaze and the crumble. For the glaze, melt down butter and
sugars in a sauce pan over medium/low heat
. Add water to loosen up the glaze, you want it a little runny. Once youve reached desired consistency, remove from the heat and add vanilla.
4.
For the crumble, I like to brown my butter in a saucepan (*see not below). To do this, place your butter in a saucepan over medium heat,
melt the butter and let it continue to cook
. You can stir occasionally. Once the butter starts to foam, let it keep cooking… you want it to cook until you see the butter turn golden brown and release this wonderfully fragrant nutty smell. Then remove from heat and immediately transfer to a heatproof bowl. You want your butter to cool and return to solid form.
5.
Once butter is solid again,
mix it with flour, sugars, oats and seasonings
. The mixture should Spread on a baking sheet lined with parchment paper and bake for about 10-15 min at 400 degrees.
6.
Once baked and slightly cooled, assemble your cookies. Spread the glaze over the cooled cookies, then sprinkle with the oat crumble. Enjoy with a glass of milk or coffee! YUM!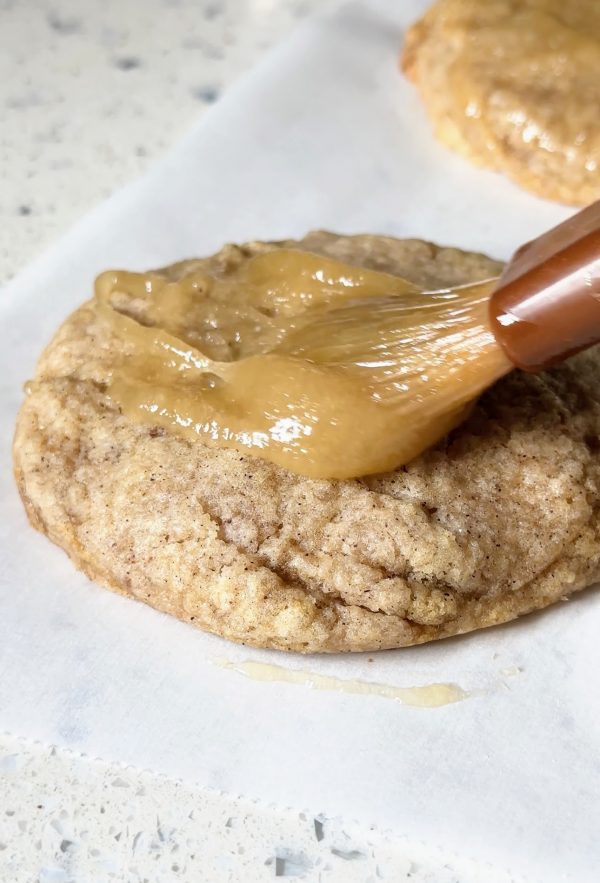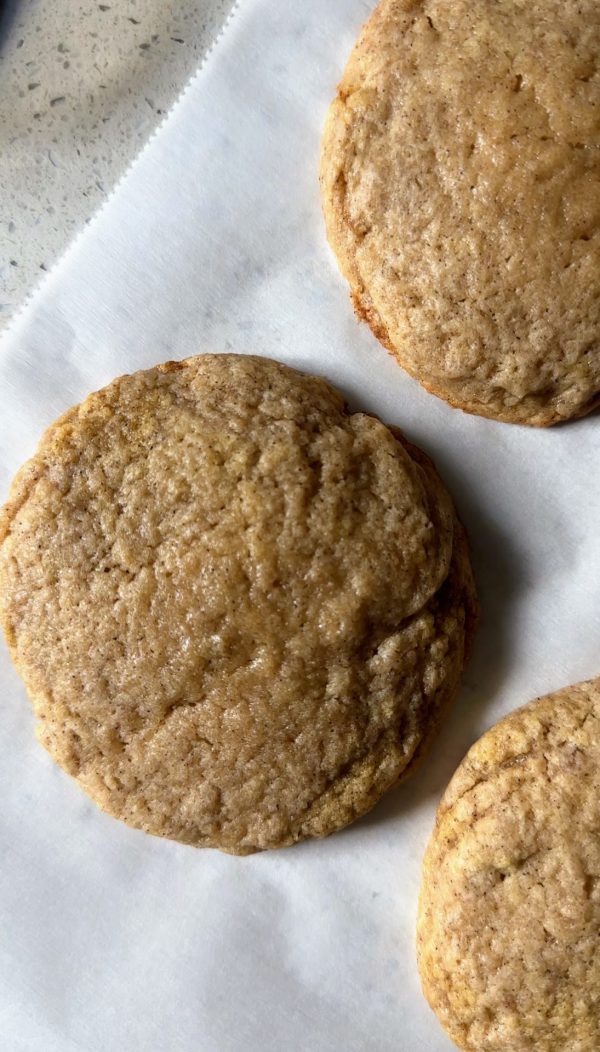 ---
Helpful tips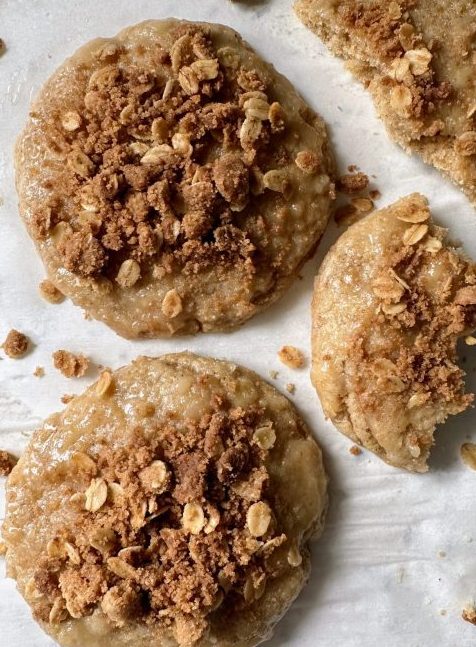 Here are some important Pro tips by Maude
As I always state with cookie recipes, definitely chill your dough. The flavor development is wonderful when you wait a few hours- overnight, even better!
Because this cookie recipe calls for baking soda, I've found the cookies spread in the oven. So I like to use a round cookie cutter to mold them back into a circular shape when they are warm out of the oven. I just run the shaper along the edges and push them back into a circle. I've notice that this method creates a nice crunch on the outside of the cookie, as they cool.
If you are new to baking, browning the butter can feel intimidating. You can totally skip that part and just soften your butter, then mix with the other ingredients. The browned butter gives the crumble a certain complexity but is not required. The crumble will still turn out delicious.
---