When you can't decide between cake or cookies
Let this oreo gem with cream cheese frosting and jimmies be your guiding light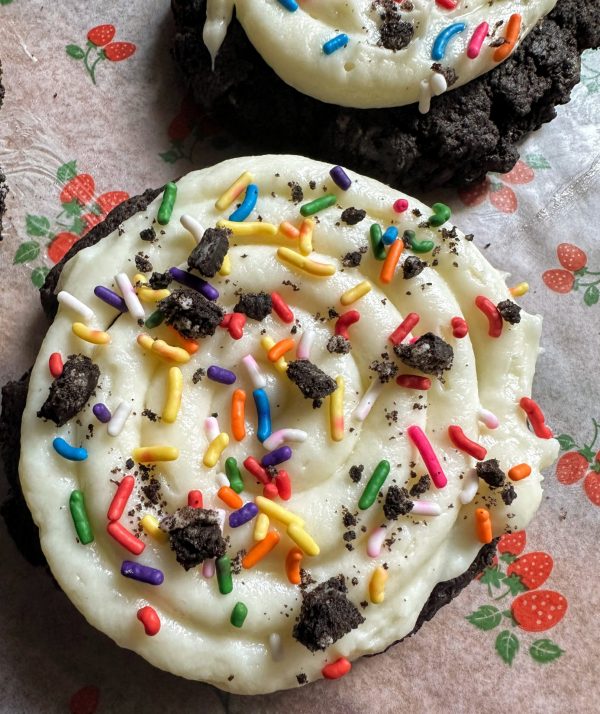 ---
What you need
Oreo Cake Cookie
1/2 cup butter, softened to room temp
1/4 cup sugar
1/4 cup brown sugar
1 tsp vanilla extract
1/4 tsp salt
1 egg, room temp
1 cup all purpose flour
1/2 cup dark cocoa powder
1/4 tsp baking soda
5 oz oreos, crushed in food processor




Cream Cheese Frostings

1/2 cup butter, softened to room temp
8oz cream cheese, softened to room temp
2-2 1/2 cups powdered sugar (*see note)
1 tsp vanilla extract
rainbow sprinkles
---
What to do
1.
Sift all dry
ingredients into a medium size bowl
. Place oreos in a food processor and pulse until oreos are super fine.
2.
Using a stand mixer with paddle attachment, on medium speed, beat sugars and butter until nice and creamy (about 1-2 min). Add your egg and vanilla, beat on low until fully incorporated (*see note).
Add dry ingredients slowly to the mixer
(I sometimes work the dough by hand at this point. Get a spatula and begin folding the dry ingredients into the wet). Add your oreos.
3.
Scoop your dough into
6-8 large balls and chill
for at least 2 hours (preferably overnight!).
4.
When ready to bake, preheat over to 350. I push my cookies down with the bottom of a measuring cup or the glass.
Bake cookies for about 8-10 minutes
. I like my cookies to be a little underdone in the middle, so if they dont look "done" thats ok!
5.
While the cookies bake, make your frosting. I beat the cream cheese and butter in a
stand mixer with paddle attachment and then
add powdered sugar and vanilla.
6.
When
ready to frost your cooled cookies
, you can use a knife to spread the frosting, or you can use a piping bag and tip to get that classic swirl. Top with sprinkles and some crumbled oreos. Enjoy at room temp or chilled! Both are amazing!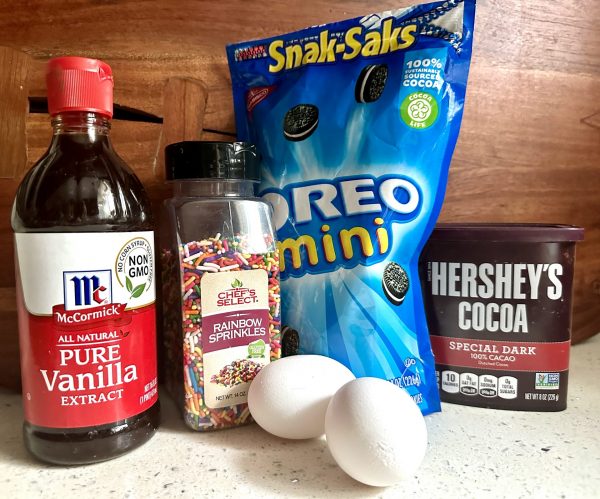 ---
Helpful tips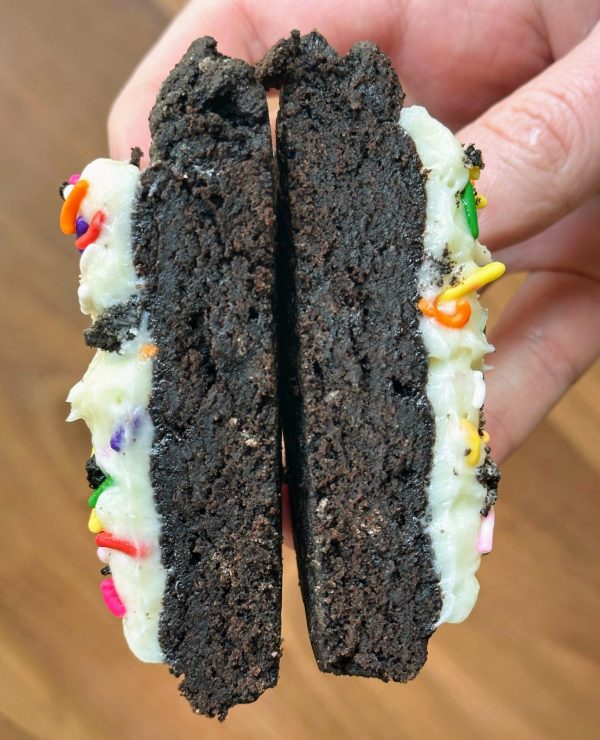 Here are some important Pro tips by Maude
Use as much or as little sugar in the cream cheese frosting as you desire. I struggle to advise a specific number on the cups of sugar, because everyone's palette is different! Taste the frosting as you go, so you get the right amount of sweetness!
When adding the egg to the sugar and butter, you dont want to beat the batter too long or on high speed. Just incorporate the egg enough and then add your dry ingredients. If you beat the egg too much and ruin the texture of the dough.
Don't overwork the dough after your have poured in the dry ingredients and oreos. Once again, you don't want to alter the texture of the cookies, so mix until just barely combined and you cant see any flour.
I always chill my cookie dough for at least 24 hours. The flavor development and melody of the ingredients, is hard to explain- but it matters! Just take my advice and try TRY to wait overnight 🙂
---