Local pub comfort food
Wrapped in a flaky pie crust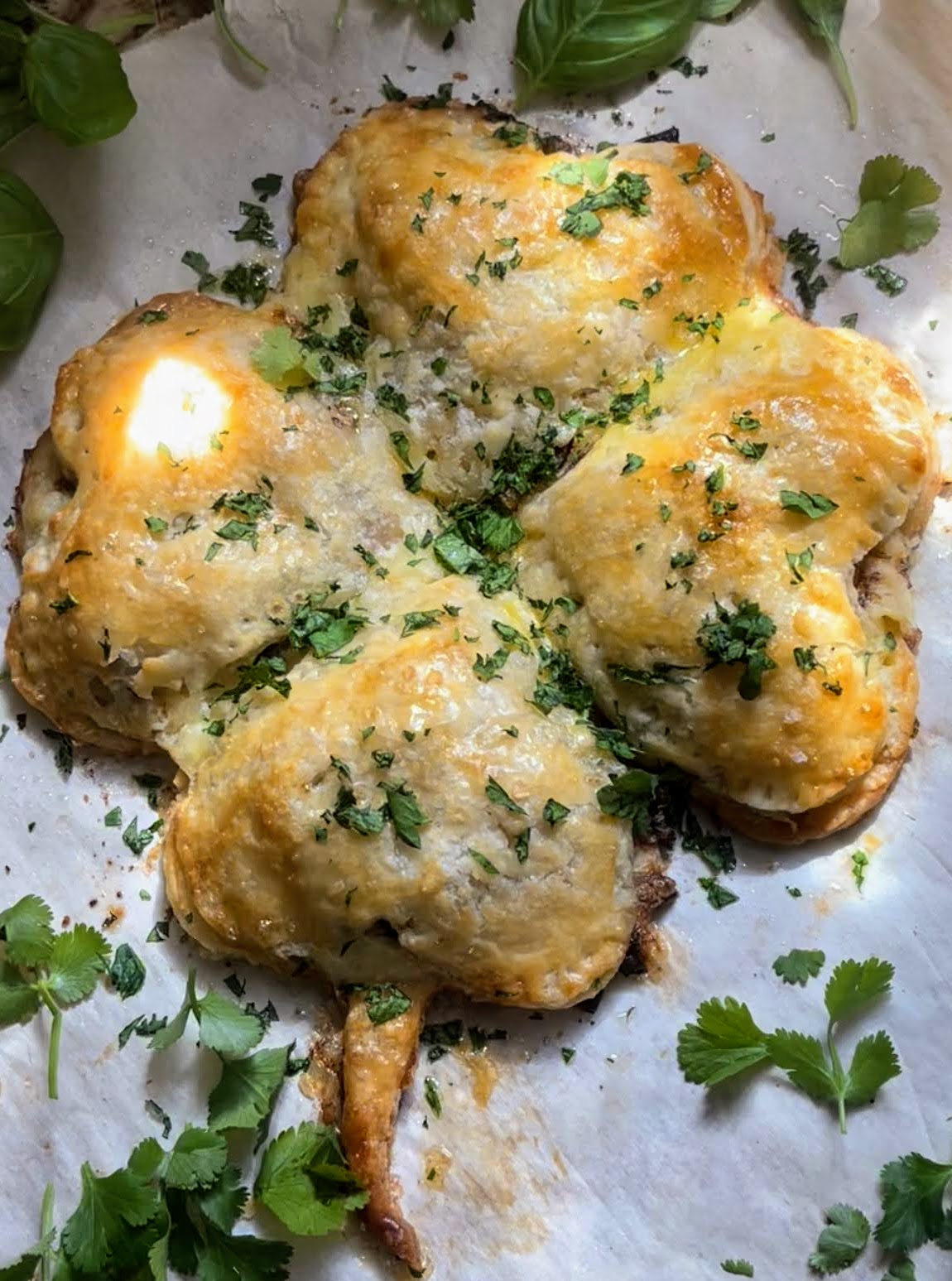 ---
What is bangers and mash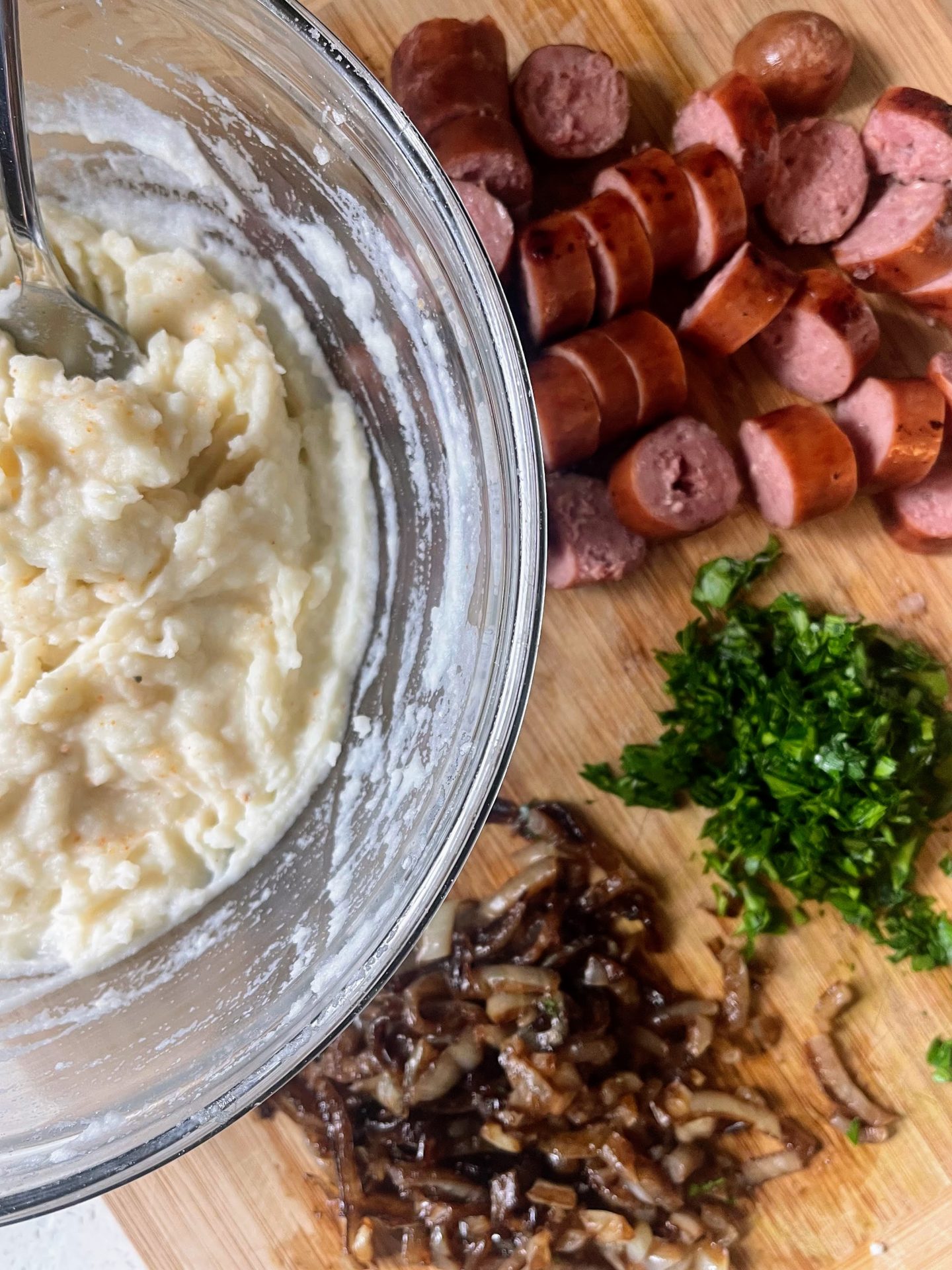 Usually consists of sausages, mashed potatoes and an onion gravy
A famous dish in both the homes and pubs of United Kingdom and Ireland
"Banger" derives from extra tight sausage casing leading to explosions during the cooking process
A simple, yet cherished and beloved dish
---
What you need
Bangers and Mash Pie
1 disc homemade pie dough or store puff pastry
Two sausage links, cooked per packaging
1/4 yellow or white onion chopped into strips
1/2 tsp balsamic vinegar
1/8 tsp sugar
1 russet or baking potato (about 1 lb)
3 tbsp butter divided
2 tbsp Parmesan cheese
1/2 cup half and half
1/2 – 1 tsp seasoned salt
egg wash
chopped parsley
---
What to do
1.
Roll out pie dough or puff pastry to about 1/4 inch thick. Use a heart shaped cookie cutter to
cut out 8 hearts
. Place hearts on a sheet pan lined with parchment paper, If you watch my IG video, you can see how I placed 4 ofthe hearts in the shape of a shamrock.
2.
After cooking the sausage, chop into
small bite size pieces
. Place to the side with chopped parsley.
3.
Skin and chop the potato into small bite size chunks. Place the chopped potatoes into a large saucepan of boiling salted water (I usually throw about a tsp of salt into my water). Cook until fork tender. Once cooked, mash the potatoes with a potato masher or a ricer, then mix with two tbsp of butter, milk, parm and seasoned salt.
Taste potatoes after 1/2 tsp of salt
, add the other 1/2 if you want your potatoes saltier..
4.
Place the other tsp of butter and onions into a
medium skillet over medium heat
. As the onions begin to sweat, add the sugar a pinch of salt. Once the onions start to brown and tenderize, add your balsamic vinegar. Cook until onions are really tender and glossy a brown color.
5.
To assemble the pies, add two tbsp of cooled mashed potatoes, four pieces of sausages, onions and chopped parsley to each piece of dough (you want to fill up 4 hearts). Take the other 4 heart shaped cutouts and place them on top of the fillings. Press with a fork to seal. You can
cut a small piece of left over dough
to put at the bottom of one of the shamrock leaves, creating a "stem".
6.
Cut a couple of
tiny slits on each heart
(you want these slits to help puff up your dough!) Place the shamrock pie in the fridge for at least 30 minutes to chill before baking.
7.
Preheat oven to 425 degrees,
brush the shamrock with your beaten egg
. Add some sea salt to the top and bake for 16-18 minutes. Sprinkle with more chopped parsley and enjoy! If you want to store your pies, place them into the fridge for up to 3-5 days after baking. See helpful tips below for reheating instructions!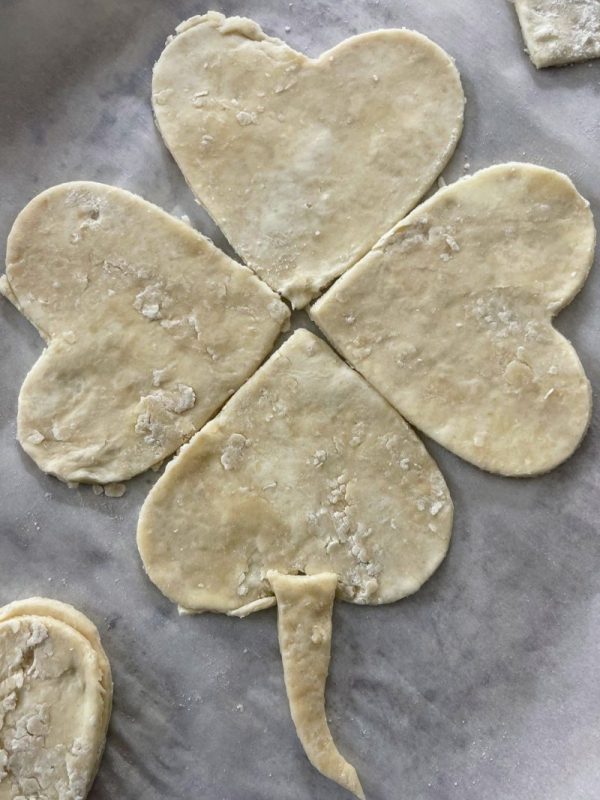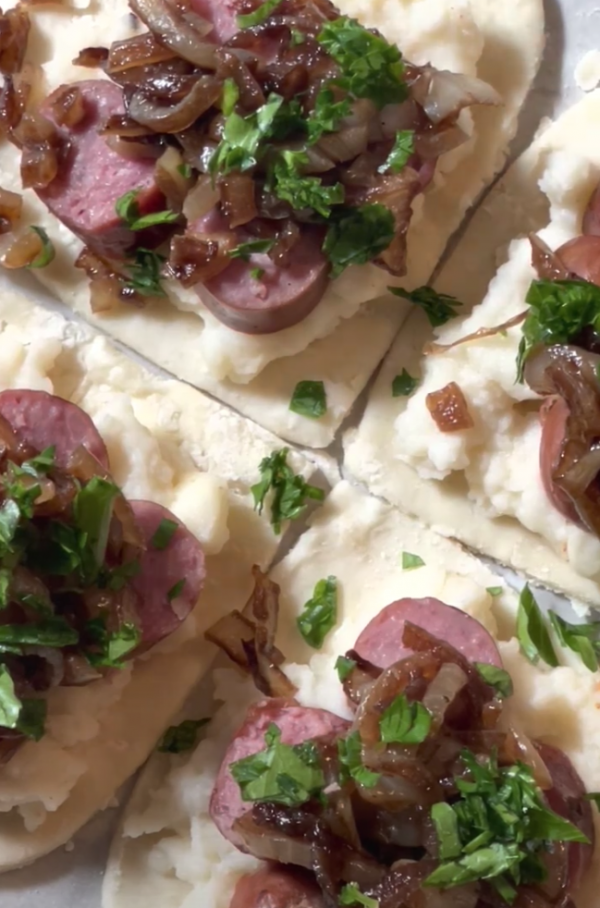 ---
Helpful tips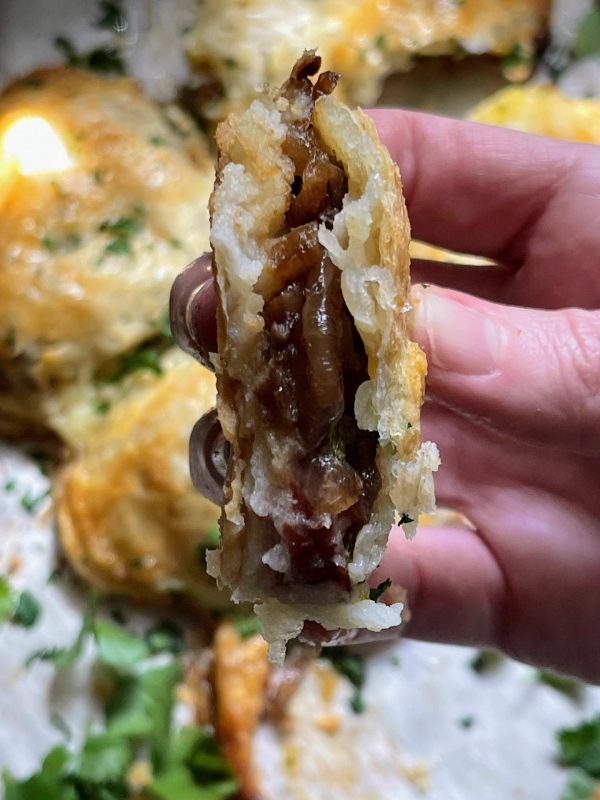 Here are some important Pro tips by Maude
Chilling your dough before baking is critical. If you want flaky layers, chill your pies for at least 30 min before baking.
This recipe is incredibly forgiving so feel free to have fun with the fillings. Measuring the filling is not critical. Just stuff as much as the pie dough will hold!
Use whatever sausages you like! I used Johnsonville's all beef brats, but you can use whatever your heart desires!
Reheating your pies is easy! Bake your pies at 350 degrees for about 15- 20 minutes. They still taste delicious.
---