Tri Tip Mac and Cheese Hand Pies
5 stars (based on 1 reviews)
---
A marriage made in BBQ heaven
Creamy, savory… the ultimate comfort food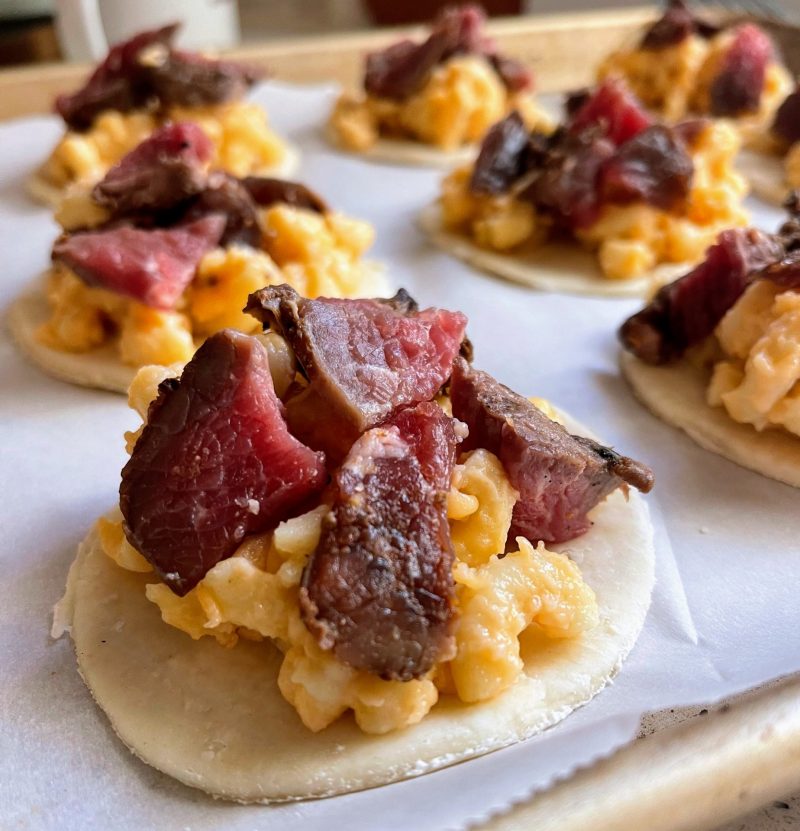 ---
The perfect game food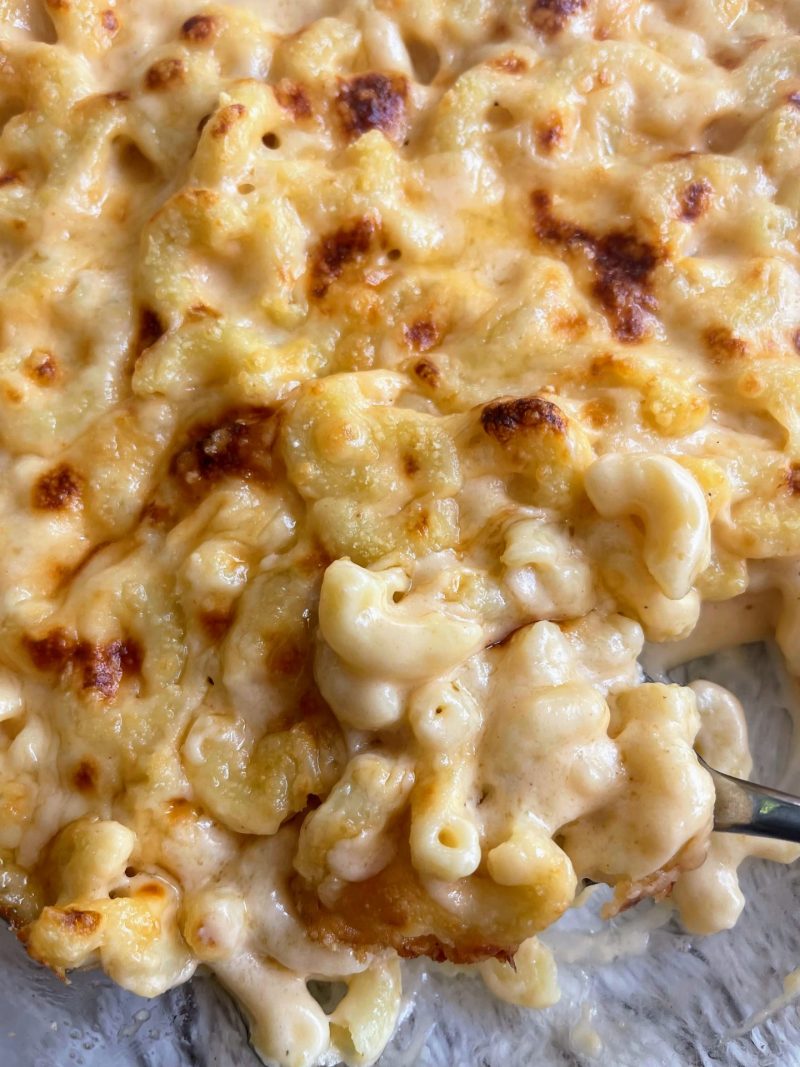 Pairs great with veggies, ranch and BBQ sauce
Smaller than a pot pie, yet super satisfying
A modern take on Southern comfort food
Dreamy BBQ meat and a glorious side together in one pie
---
What you need
Hand Pies
Two homemade pie discs or puff pastries
8 oz of tri tip beef, grilled and cut into cubes
1 batch of homemade mac and cheese (recipe below)
Beaten egg for brushing the pies
Homemade Macaroni and Cheese
6 oz of elbow macaroni
2 tbsp of butter
2 tbsp of flour
3/4 cup of milk
1/2 of half and half
1/2 tsp of garlic powder
1/2 tsp of onion powder
1/4 tsp of dry mustard powder
1/2 tsp of seasoned salt
2 cups of cheese (you should use cheddar for at least one cup but then feel free to use another type of cheese)
1/4 cup of Parmesan cheese
salt and pepper (to your taste preference!)
---
What to do
1.
Preheat your oven to 400 degrees. Over medium heat, cook your
macaroni until it is just al dente
. Then drain and set to the side.
2.
In another saucepan, melt your butter over medium heat, then toss in your flour. Whisk the two until there are no lumps and you have a nice thick mix. Then
slowly pour in your cream and milk and all the seasonings
. Whisk that mix for a few minutes and let it thicken.
3.
Remove your cream mixture from the heat and pour in all your cheese (yummy!), mix until smooth. Pour your cheese sauce over your noodles. Then pour your macaroni and cheese in a greased 8×8 pan and bake for about 15-20 min. When the macaroni is bubbling and
starting a brown a bit, I turn on my broil
(high) setting and let the top of the macaroni brown. This method makes for a nice crunchy top and edges! Let macaroni cool to room temperature.
4.
Roll out pie dough (or pastry) and cut 8 or 9 six inch circles (I use my 6 inch cake pan and trace with a knife). Place dough on a cookie sheet lined with parchment paper. When your
tri tip and mac and cheese are cool enough
, begin assembling them to one side of each circle of dough. You can add about 2 tbsp of mac and cheese and about 5 or 6 pieces of tri tip on top. Then fold the empty side of the dough over the mac and cheese and meat (this will create a half circle shape). Press the dough with a fork. Freeze your pies for 20-30 minutes so they are extra cold before baking.
5.
Preheat oven to 425 degrees.
Brush pies with the beaten egg and bake for 15-18 min
. Ovens vary, so start checking at 14 min. You want your pies to be a nice golden brown color. Let the pies cool for 5-10 minutes and then INHALE'EM!
6.
Store in
fridge for up to 3 days
after baking!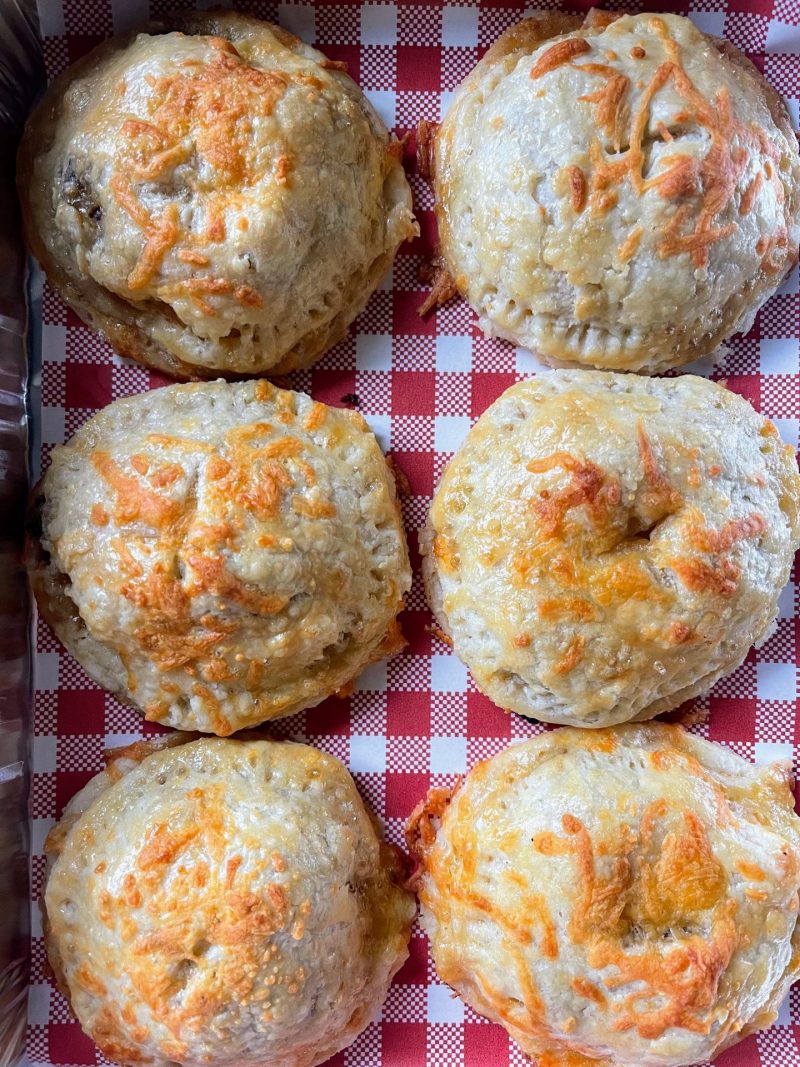 ---
Helpful tips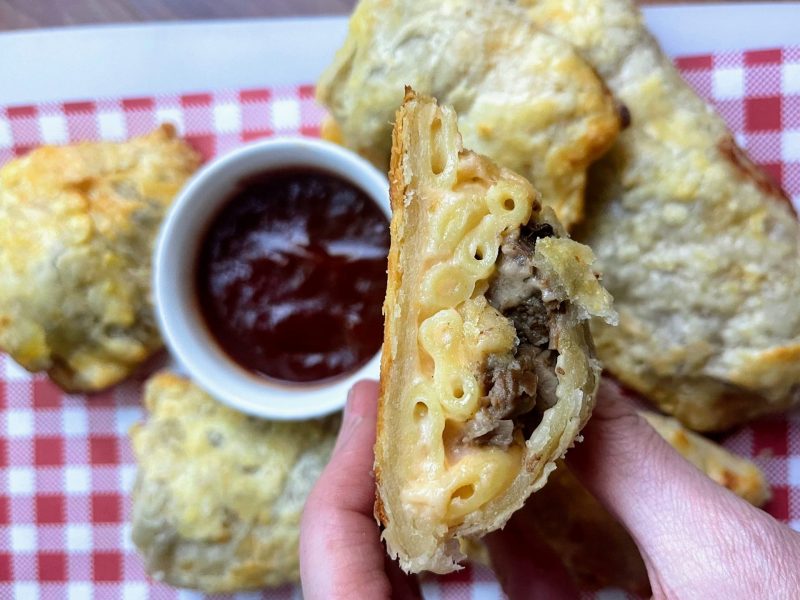 Here are some important Pro tips by Maude
Chilling your dough before baking is critical. If you want flaky layers, chill your pies for at least 30 min before baking.
This recipe is incredibly forgiving so feel free to have fun with the fillings. Measuring the filling is not critical. Just stuff as much as the pie dough will hold!
I usually under grill my trip tip and under boil my macaroni (al dente) because they both will continue to cook once they are in pie form.
Make sure your tri tip and macaroni and cheese are not hot or even warm when assembling the pies. They need to be cool or they will melt your pie dough.
Reheating your pies is easy! Bake your pies at 350 degrees for about 15- 20 minutes. They still taste delicious.
---
---