A classic, beloved pastry
But make it fruity and bright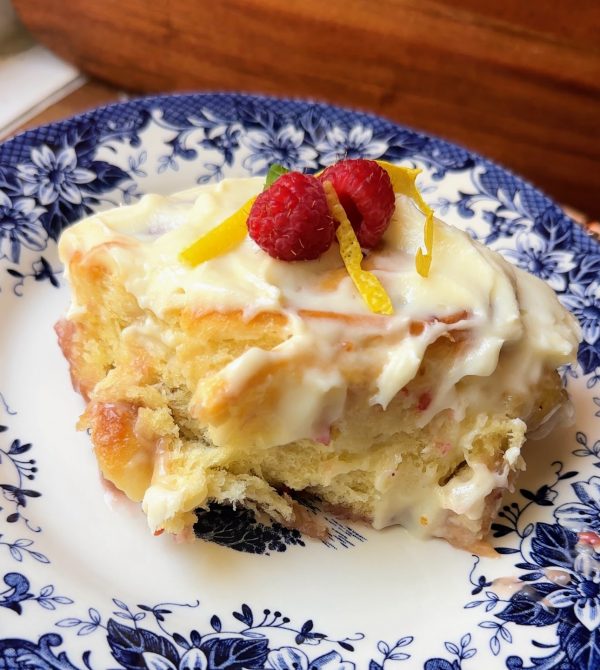 ---
What you need
Dough
1 cup warm milk (no warmer than 115 degrees)
2 1/2 teaspoons aka 1 small package instant dry yeast
2 large eggs at room temperature
1/2 cup unsalted butter (Melted, and cooled)
1/2 cup sugar
1 teaspoon salt
4 1/4 cups all-purpose flour
1/4 cup whipping cream, room temp




Raspberry Filling

10oz raspberries
1/4 cup sugar
2 tbsp raspberry jam
Zest from half a lemon
1 tsp lemon juice
1 tsp constarch
2 tbsp brown sugar
1 stick of butter, softened




Cream Cheese Frosting

One 8 oz brick cream cheese
1 stick of butter
1 cup powdered sugar
1 tsp vanilla extract
---
What to do
1.
For the dough, heat milk in the microwave or on the stovetop until milk reaches 112-115 degrees Fahrenheit (*see note). Pour into a stand mixer bowl,
then sprinkle yeast on top.
Let that sit for a few minutes so the yeast and milk can create a foam and nice fragrance! Add your sugar, eggs, melted and cooled butter, mix to combine (you can use a spatula at this juncture).
2.
Pour in flour and salt and mix with spatula very gently, until barely combined. Let the flour and mix rest for about 3-5 minutes before the next step. Using a hook attachment, on medium speed, begin mixing your dough.
Knead this mix for about 8 minutes (*note the dough will be tacky and stick to the sides of the bowl thats ok)
As your dough kneads, if it is sticking too much, feel free to sprinkle a little more flour into the bowl. Do NOT add more than about a tbsp or two of flour! Too much flour will leave your rolls dry and too dense!
3.
When the dough is done kneading,
place into a glass bowl rubbed with oil
or butter and cover. Place the dough in a warm place and let it rise for about 45 min. I like to run my oven at a low temp, for about a min. Then I turn the oven off then place my dough on the top rack to rise.
4.
While the dough is rising, make your filling and frosting. For the filling, in a large bowl,
add all ingredients except the brown sugar and butter
. Mix well and press on the berries to release their juices.
5.
For the frosting, add softened cream cheese and butter to a stand or hand mixer. Beat until fully incorporated and smooth.
Add powdered sugar and mix until combined
. Add vanilla and mix again. Easiest and most delicious frosting!
6.
When the dough has doubled in size, transfer to a floured surface and begin rolling with a rolling pin.
Once you reach a rectangle size of about 20-22 inches long and about 18 inches wide, spread your softened butter
evenly and then sprinkle your brown sugar. I like to spread the butter and sugar out to the very edges so that every roll is tasty and gooey. Add your raspberry mix on top.
7.
I like to use a tape measure at this point. Using a pastry cutter, (knife or bench scraper works too) I cut my dough into 12 (1 1/2-2 inch) long strips (this is unorthodox, but I swear its easier!)
and then roll from the bottom of each strip
, to the top! This is super easy and you get perfect rolls each time!
8.
Place your
rolls into a large 9x13inch pan
, or
into two round cake pans, cover and then let the rolls rise
for another 20 min or so.
9.
Preheat oven to 375, and pour heaving cream evenly over rolls. Bake for about 30-35 (
ovens vary, and the middle rolls may need more time to finish baking, so cover the rolls with foil if you reach 30 min
and the middle rolls need more time).
10.
Allow rolls to cool for 10-15 minutes, and
then lather with that glorious frosting
. These are so delicious and perfect for a summer brunch!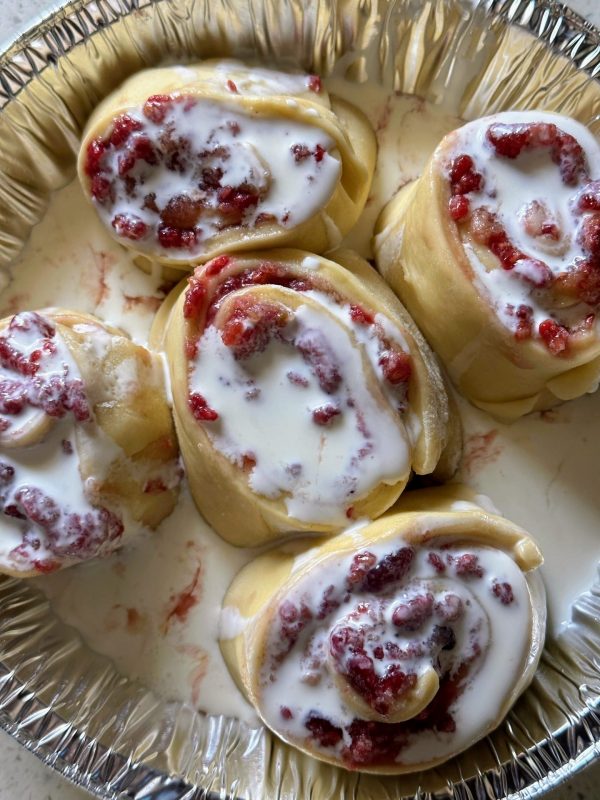 ---
Helpful tips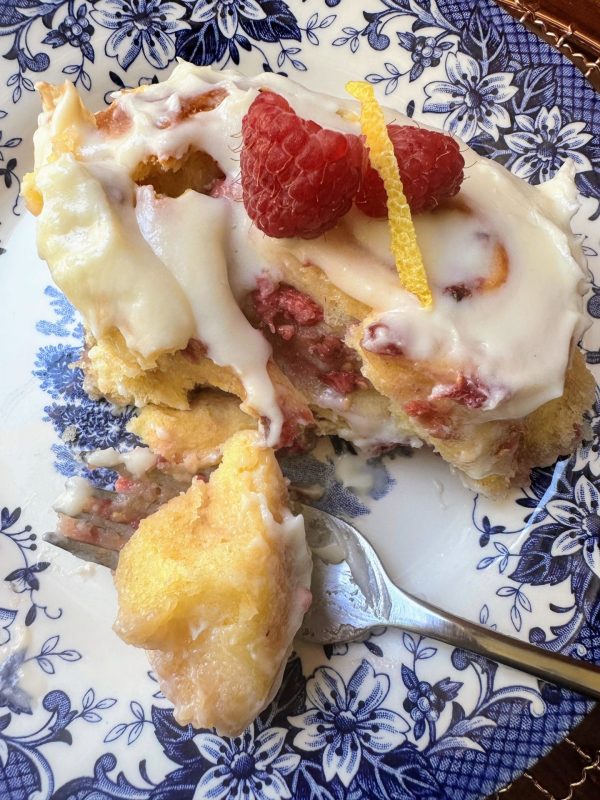 Here are some important Pro tips by Maude
The warm milk for your dough shouldn't exceed 115 degrees, but it also can't be too cool. This is because the milk activates the yeast which in turn, will help your rolls rise. I use this thermometer and it works very well.
Dough texture can vary given the weather and kitchen temperature! After you knead your dough, it will be tacky and a little sticky to touch. However, you should have no issues scraping it into a bowl to begin the rising process. If you find that the dough is too runny or sticky, it might need a little more flour. Place the dough back in your stand mixer and add a tbsp of flour at a time and knead some more.
If you slice your rolls how I described above, I use a pastry roll cutter thing to easily cut my strips. You can get one here. Its a great tool to have in the kitchen when working with dough!
---